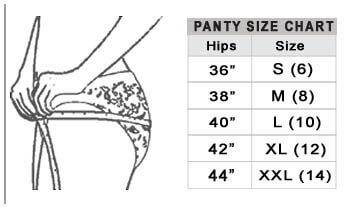 Macchiato Beige Bikini Panties are a great choice in lingerie for coffee lovers! The color is remarkably similar to the color of a warm cup of a Mocha Macchiato, brewed at your favorite coffee shop. It's a warm and inviting beige, beckoning your lover to take a sip.


This pair of mesh bikini panties have a sheer tulle material, which adds a bit of shine and shimmer to them. The seamlessly woven embroidery is a clever design; it complimeants the color, name and style of the panties. The unique pattern looks like the creamy, delicious froth that tops your favorite Macchiato beverage. The mix of the java-inspired color, sheen of the mesh material and design of the lace embroidery make you feel like you're sipping on your favorite beverage at the local coffee house.


The mesh bikini panties are an import from Europe, where they were also designed. As you can imagine, they are made with superior quality fabrics and exceptional craftsmanship. One of the best features in this lingerie piece is that it is not only sexy and attractive, but comfortable and relaxing to wear. The full back coverage gives you a relaxed fit; while the front and back sheer material make it one hot number! Delicate lace accents on the front are a simple detail, but just enough to add a bit of elegance and allure.


The beige bikini panties have a blend of 90% nylon, 7% spandex, 3% polyester fabric. This blend gives the material a stretchy and pleasant fit, yet still feels cozy and snug when you have them on. It's the perfect combination of naughty and comfortable, like the perfect combination of espresso and steamed milk in your favorite Macchiato! Top it off with the matching Macchiato Beige Padded Balconette Bra. It's like adding a dollop of whipped cream to your coffee!


Available in sizes: S - Small, M - Medium, L - Large, XL - Extra Large.