About Ti Amo - Light Cream Bikini Panties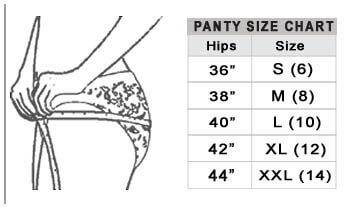 These adorable soft and snug mid coverage panties will keep you in your comfort zone all day long. These cute and adorable light cream panties will easily provide you with a silky soft feel and amazing fit. Gorsenia's low-rise light cream nude briefs are favorably made of a lightweight breathable stretchy microfiber for maximum comfort and feature an elastic trim to create the perfect fit throughout your day.


These light cream panties don't bring comfort while compromising cuteness. An elegant lace trim traces around the bottom of the ultra thin fabric of these nude panties and forms a triangular shape upward toward the top middle of these panties. This triangular shaped lace design is complete with a cute appealing bow at the top middle of these panties as a finishing touch. All of the fabric inside of this triangular shape in the front middle of these cute panties features an elegant jacquard floral ornameant design that only adds an even broader variety of elegant uniqueness to its design. The top trim of these panties also features a small loop designed white picot elastic edging for extra detail that coordinates nicely with the white lace edging featured around the bottom trim.


These comfortable bikini style panties work perfectly while wearing during any time of day and are ideal for everyday wear. They're great for providing you with all day comfort, allowing you with the versatility of wearing any attire without their visibility under your clothes and they certainly still have cute feminine details that will keep you feeling nice all around.


Available in sizes: S - Small, M - Medium, L - Large.