About Lace Bikini Panties Lilac - Macy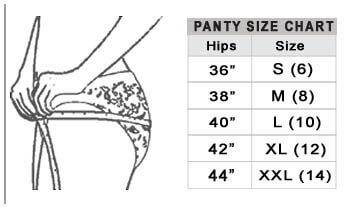 Basic just got a lot more interesting. It's time to dump all the preconceived notions you have about white panties and embrace irresistible sweetness and alluring simplicity with the MACY Lilac Lace Bikini Panties. These very innocent panties are made to make women of all ages feel free and flirty. Even though the design of these lace bikini panties looks and feels extremely lightweight, their sturdy and supportive feel may surprise you when you slip them on. You'll appreciate the way they hug your tummy and lift your derrière without making you feel the pinch. A comfortable band wraps around your tummy just below the naval to ensure that you feel properly secured at every turn. A transparent back makes these panties a very desirable and comfortable alternative to thongs.


Why settle for basic cotton panties when you can enjoy the beauty of white underwear with an added kick? This gorgeous design features intricate embellishmeants on virtually every inch. What's more, their airy lace design gives you plenty of room to breathe. You may want to stock up on a few pairs of these exceptionally versatile lace bikini panties so you can wear them to work, out on the town and around the house. This design is slick enough to inconspicuously fit beneath even the slinkiest of dresses, skirts and pants. You can pair these gorgeous panties with the MACY Lilac Full Cup Bra to create a fresh look that will serve you well underneath your clothing or during afternoon liaisons in the bedroom.


Available in sizes: M - Medium, L - Large, XL - Extra Large.