About Brigitte - Lace Bikini Panties Light Grey: S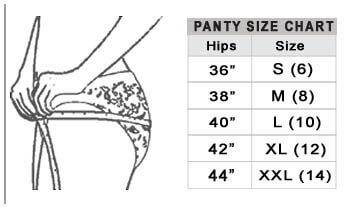 Brigitte Light Grey Lace Bikini Panties are the perfect choice for women that are looking for something a bit different. There are many predictable and traditional styles in the lingerie industry and on the market, so it's thrilling when you can find a unique and luxurious find. The creative contrast between the light grey, coral and white colors are not a traditional color combo; but the end results gives you a sexy pair of exceptional panties. You will never feel ordinary and drab when you have these on!


These lace bikini panties are really something special! The light grey lace has a beautiful floral pattern, and the scalloped edge gives them an elegant look, with a flowing embroidered scroll design. The lace is extremely soft, promising relaxed wear. Grey color is the perfect background for the orange/coral floral pattern, which is a V-shaped design on the stomach and crotch area. Two satin grey bows brace the top of the coral fabric, adding an extra feminine touch.


Sometimes attractive and stylish lingerie is only possible at the cost of comfort. But not with this pair of lace bikini panties, you get both! A top quality lingerie garment imported from Europe, with superior quality and craftsmanship. The sheer mesh back gives a little extra stretch to the fabric, cotton is the chosen and ideal material for the crotch area. Add Brigitte Light Grey Lace Push up Bra to make the perfect ensemble. Don't be afraid to step a bit out of the box with your lingerie purchases; try something different and fun. Don't take too long making up your mind as Brigitte line from Ava belongs to it's limited collection.


Available sizes left: S - Small.