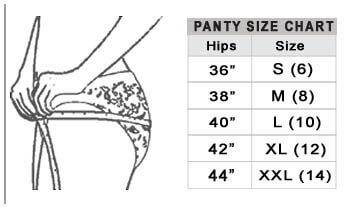 Celeste Turquoise Lace Bikini Panties will have you fantasizing of a tropical paradise, and your own sexy pirate! The vibrant, rich turquoise color mimics a tranquil ocean's intense blue; while stirring the fire of your lover's passions. The imported fabric combines silk and satin, and is of the highest quality. You will feel the luxurious material caressing your body, like the warm and soothing waves of the ocean.


The satin and lace underwear have a beautiful design, overlaid with a translucent tulle. Imagine the stunning vision of the ocean's floor and colorful corals, an aquatic work of art. The lace briefs have an embroidered front; a white floral pattern resembling the blooming shapes of underwater plants, slowly drifting in the vibrant aquamarine water. Small embroidered white bubbles on the lace panties are a lovely touch, and remind you of the foaming, swirling bubbles in the ocean.


Beauty and sex appeal are important features when you buy lingerie, but comfort is one of the most important aspects. The lace briefs will give you full coverage in the back, which promises that you will feel comfortable and relaxed in any outfit, day or night.


Although these satin and lace underwear may look fragile and delicate, the detailed needlework and intricate stitching give you sturdy and lasting results. You will have the perfect ensemble if you get the matching Celeste Lace Demi Bra, creating the most exotic picture.


Explore the seven seas with your pirate when you wear these ultramarine lace panties, experiencing an unforgettable treasure hunt, and your the prize. Once your pirate catches a glimpse of you in these provocative turquoise satin and lace underwear, they will burn with desire - don't let their thirst go unquenched!


Available in sizes: S - Small, M - Medium, L - Large.