About Café Latte - Sheer Lace Bikini Panties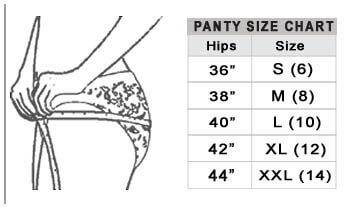 If you're looking for a lingerie piece with bold character and unique design, you've found what you're looking for with Cafe Latte sheer lace bikini panties. Ava sheer lace bikini panties make a powerful statemeant that simply demands attention. Gorgeous beige lace panties are made from a sleek and stretchy microfiber material and a shimmering sheer floral lace tulle overlay. The lustrous smooth and stretchy microfiber material creates the bikini style section of the lingerie piece and forms comfortably to your unique body shape giving you a snug fit.


The beautiful floral lace tulle overlay on this gorgeous lingerie piece gives it an adorably sexy feminine look. The lace overlay covers the front mid and bottom section of the microfiber bikini style beige lace panties then continues to create a completely sheer lace section downward toward the thighs creating a very sexy and elegant feminine boyshort style design.


Ava sheer lace bikini panties are full of character and extra detail with remarkably profound seam designs that were simply made to impress. The top edge is made from both microfiber fabric and a romantic shimmering lace tulle overlay that features a small carefully threaded beige ribbon. This ribbon meets at the middle of this enchanting lingerie piece and ties as a bow for a pleasant feminine touch.


Beautiful panties with a sheer back gives this piece even more added sex appeal. Truly one of a kind uniquely and elegantly designed panties with a sheer back are sure to captivate the attention of those you desire.


For this complete sexy and elegant look, pair this romantic lunderwear with matching Cafe Latte Lace Full Cup Bra by Ava.

Available in sizes: M - Medium, L - Large, XL - Extra Large.