About Florence - Black Sheer Lace Bikini Panties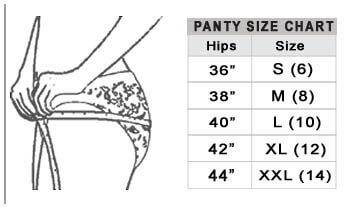 Florence Black Sheer Lace Bikini Panties are a great addition to your lingerie drawer. The design combines elegance and simplicity, but still allows you to show your passionate and seductive side. Black silk sets the stage for the main star; the sheer tulle material and red decorative embroideries. Lacy tulle embraces one hip, drawing the eye to the diaphanous adornmeant of the embroidery. The embroideries display an intricate floral stitching, with beautiful red blooms and white swirling leaves. The black bikini panties are also trimmed with scalloped lace; a delicate feature that creates the perfect finishing touch!


The imported material of this black sheer lace bikini panties is luxurious to your skin. Fine craftsmanship guarantees you will have a great fit and a relaxing experience when you're wearing them. They feel silky and smooth against your skin and eliminate the worry of embarrassing lines. The fabric will mold to your shape, assuring you will feel cozy and satisfied in this pair of black bikini panties. The smooth fabric eliminates the awkwardness and discomfort of lines, bulges and discomfort; exactly what you are looking for in your lingerie apparel.


Don't be afraid to wear that cute pair of tight jeans or that racy, little black dress. It also doesn't matter if you are wearing your favorite power suit to the office, or a casual pair of pants to the mall; you will look fluid and polished in both selections! You will always feel confident and secure when you're wearing these black bikini panties. They allow you get the best of both worlds, comfort and style! Make your look complete by adding the matching Florence Black Unlined Sheer Lace Full Coverage Bra. The combination is stunning, you will be the main attraction and feel like a star!

Available in sizes: S - Small, M - Medium, L - Large, XL - Extra Large.