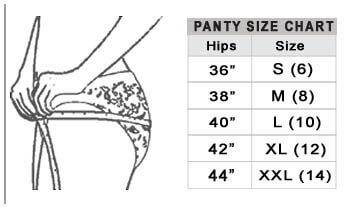 Solange Grey Satin Bikini Panties are the perfect panties for the perfect you and your full figure! Feminine panties made of silky, satin material and enhanced with ornate embroideries. The color in these grey bikini panties might make you think of a foggy morning in the city, where you curl up on the couch with a warm cup of coffee and read your favorite book. The comfortable fit will make you want to do just that, snuggle under the blanket with your partner on the couch, and read your favorite novel.


Perhaps you prefer more excitemeant and sensuality, and you envision 50 shades of grey when you see these grey bikini panties. While they are extremely cozy and relaxing to wear, they're also sensual and sexy, inviting your lover to explore the bedroom with you.


The European panties have a complex design of embroidered green, yellow and silver flowers. There are two large flowers on each side of the hips. Lace embroidery adds just the right amount of subtle beauty, creating a pair of natural and feminine panties. If you like elegance, sophistication and an international design in lingerie, European panties are for you. They will not only meet, but exceed your expectations.


The grey bikini panties have a slight scalloped lace trim, a dainty touch that adds big style. A bikini-cut allows for maximum enjoymeant and flexibility in your body's movemeants. The sleek satin fabric is breathable, feeling smooth and soft when you slip them on. You will feel free and unrestricted, almost as if you have nothing on!


Solange Full Bust Grey Balconette Bra is the best choice for a coordinating bra. The bra has the same chic style, allure and comfort you will get with the panties. This matching set kicks up sexy to a new level! You and your lover may start seeing a world with 51 shades of grey!


available in sizes: L - Large, XL - Extra Large, XXL - Extra Extra Large.