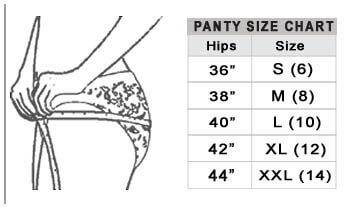 Leila Light Beige Lace Cheeky Panties will make you look at the color of beige in a whole new light. Beige isn't always the top choice when you're in the market for a new pair of sexy lace panties. Some may think it's a plain off-white color, not one to wow you. Don't be mislead by this conception, these gorgeous beige lace panties will make you feel exquisite with its shimmer, shine and sexy simplicity.


The front showcases a lustrous satin fabric, which sparkles like a twinkling star. A miniature satin bow sits in the middle and adds a delicate touch. Caressing your hips, the intricate scalloped lace surrounds the satin material. It also provides a bit more stretch and pliancy.


The floral scalloped lace design flows around to the back, with blossoming petals and sophisticated scrolls. The satin section has a v-style, drawing the eye to the shapely small of your back and the curves of your hips. The most prominent feature is the lace that caresses your bottom, while baring your curvy cheeks. The transparent lace molds to your buns, displays your cheeks like a prized trophy.


These satin lace panties are versatile with their neutral color, allowing you to wear them with any clothing item. Never will you worry if the color of your panties will show when you're wearing a summer linen white dress or a pair of your favorite tan slacks. Slide this sexy number on with complete ease and confidence, day or night.


These gorgeous satin lace panties cover the basics in finding the perfect piece of lingerie. The neutral color is compatible with every color of the rainbow, never clashing with your outfit choices. Best of all, you will feel fabulously sexy and comfortable every time you put them on. Plus, you will make a grand exit for your lover every time you leave the room!


Available in sizes: L- Large, XL - Extra Large.