About Sheilla - Sapphire Blue Lace Cheeky Panties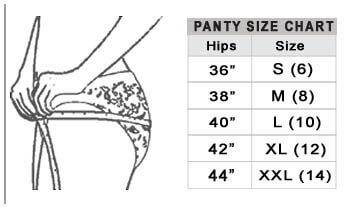 Sheilla Sapphire Blue Lace Cheeky Panties check all the right boxes if you're looking for some eye-catching blue lingerie. Do your regular panties have you singing the blues?


You're going to love the way these blue bikini panties caress your derriere like two hands made of lace and silk. Every inch of these exquisite panties has been carefully designed and crafted to offer the elegance and support every woman craves. This is the panty you've been waiting for if you're searching for a design that disappears so easily under everything from cocktail dresses to yoga pants. The detailing and embroidery lining this design simply must be seen in person to be fully appreciated. It will be hard to resist the urge to trace your fingers over every inch of lace each time you slip on this beautiful design. What's really impressive is the way this look balances such a delicate appearance with such a strong and sturdy fit. These panties promise to keep their beauty throughout every wash and wear.


Are you ready to make getting dressed feel fun again? It will feel like you're reaching into a secret garden to pluck out a perfect blue flower each time you reach into your lingerie drawer to pull out these panties. The best thing about owning these blue lace panties is that you can choose to wear them under your favorite outfits or reserve them strictly for bedroom affairs. With generous helpings of lace, mesh and embroidery, this design will satisfy your desire to look and feel beautiful. If you're searching for a perfect gift for the lady in your life, you can't go wrong with these lovely panties. Pair this design with one of the great Sheilla bras that are available to create a truly radiant lingerie look.


Available in sizes: L - Large, XL - Extra Large.