About Rania - Red Sheer Lace Bikini Panties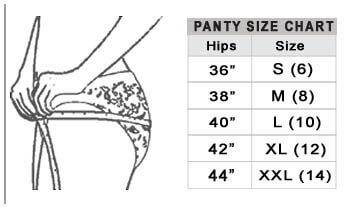 Rania Red Sheer Lace Bikini Panties are the perfect choice if you're tired of the way most sheer bikini panties leave you feeling a little too exposed. Embrace a design that embodies the perfect bikini cut that so many women have come to love because of the way it flatters and supports. These panties make it possible to take a walk on the sheer side without giving up the comfort and support that practical panty styles offer. You're going to have a hard time believing that panties so delicate and gorgeous can provide so much support until you try them on your body.


Rania Red Sheer Lace Bikini Panties will definitely show you what it's like to feel unrelenting softness and support all day long. These sheer bikini panties feature ultra-comfortable red opaque fabric on the back to ensure that you can enjoy the perfect level of coverage under any type of clothing. The front of the panty offers full coverage that will give you the confidence to wear form-fitting pants and clingy skirts without fear of visible panty lines. There are pockets of lace just above each hip bone to provide a gorgeous touch that also allows your skin to breathe. The panty is made of elastic fabric with sparkly undertones. The craftsmanship of these panties is like nothing you've experienced before. This design offers the perfect balance of stretchy comfort and firmness to make you feel comfortable in your own skin. You can consider these hot panties your secret weapon for feeling sexy and confident in a flash. This panty is an ideal choice if you love the way your body looks in a classic bikini cut. It offers a tremendous amount of coverage without covering your tummy or your hips.


Adorn your body in a fiery ensemble when you pair these hot red panties with a matching Rania Red Sheer Lace Bra. These panties can become your go-to lingerie option for making your body look impeccable under any outfit or your reliable choice for making a statement in the bedroom. Unlike many pieces of fashion lingerie on the market today, this panty design is created to maintain its beautiful shape and vivid color through many washes and wears.


Sizes: S - Small, M - Medium, L - Large, XL - Extra Large.