About Sheer Bikini Panties Black - Ines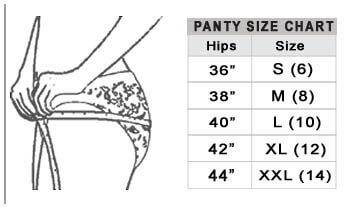 What better way than to create the illusion of long legs or to accentuate your already long, endless legs than with these sexy, intricately detailed, skillfully embroidered bikini undergarmeants? What better way to define your waistline than with high-cut leg openings?

Black Sheer Bikini Panties by Ines features stretchy jet black microfiber construction that allows the garmeant to move with you. The beauty of this design is in the exquisitely flattering cut. Floral details of roses, vines and petals adorn the front, catching his eye and drawing your lover in for a closer look. With full rear coverage and magnificent black embroidery at front, these panties are a layered work of art, their design coveted by leading fashion designers. One more benefit of this black bikini is that lasting durability and black's ease of washing.

The bikini underwear wears amazingly beneath high cut jeans, pencil skirts and A-line dresses. They are a staple to every fashion diva's wardrobe. They are not your typical pair of underpants; they sizzle effortlessly while being wearable everyday. They will be your favorite pair of panties, as versatile as your favorite pair of leather knee-high boots. Combine them with a crimson red bra, a scandalous lace-up corset and your shiniest black patent leather high heels for a stylized finish in a timelessly brazen color combination when playing in the bedroom. You can also pair them with a fabulous Ines Black Sheer Bra for an unusually spectacular effect.

For all the sensual and stylistic power this black floral panty design exemplifies, attention to providing everyday comfort has not been forgotten. Designed to fit immaculately, the waistband and leg openings feature high-quality, durable elastic to keep the garmeant firmly in place. Generous total coverage is provided while still shaping the bum and hugging the skin intimately. Additionally, you will love the subtle downward sloping arc of the waistline in the back. This fine line has been cut purposely to give graceful, weightless elevation to the buttocks.

More of the bikinis' most exquisite detailing lies in the five delicately scalloped lace edges of about one inch in width each, rising slightly above the waistline. Each individual lacy scallop is comprised of six tiny woven circles, each as perfect as an ocean pearl. Petite roses and spatters of leaves adorn sloping, graceful vines that weave themselves effortlessly.

Available in sizes: S - Small, M - Medium, L - Large, XL - Extra Large.