About Paris - Burgundy Sheer Bikini Panties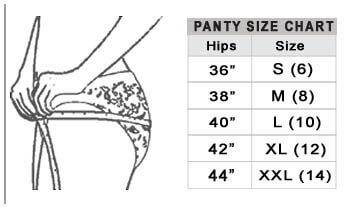 Burgundy wine will never be as intoxicating as Wiesmann's Paris Burgundy Sheer Bikini Panties. A trail of flowers at the hip bone alludes to a sweet secret garden. The light burgundy fabric brings a spring blush to any complexion. It all comes together through impeccable and detailed craftsmanship. Expect comfort and durability from this piece of top shelf see-through lingerie. It holds a special place as part of our best selection of sheer panties. Pair these panties with the Paris Burgundy Sheer Balconette Bra for a sultry, sophisticated look.


Be transported to a romantic night of kissing beneath the Eiffel Tower every time you wear the Paris Burgundy Sheer Bikini Panties. You'll fall in love with the floral embroidery that wraps around your hips each and every time you reach into your lingerie drawer and put these on. This design offers plenty of support and coverage while still giving your skin room to breathe. You can enjoy a solid back that will leave you feeling supported no matter what type of outfit you're wearing. You'll love how these panties fit like a second skin beneath pencil skirts, cocktail dresses, jeans and yoga pants. Of course, panties this beautiful can also be reserved strictly for special nights that call for special lingerie.


Do you want to look more radiant than the City of Lights? Let your hips do the talking as you strut around in these gorgeous panties. These sheer bikini panties are made in Europe using the best of European design and craftsmanship. Every inch of this design is created to last and make you feel sexy and feminine hour after hour. Pair your new panties with the matching Paris Burgundy Sheer Balconette Bra to create a stunning combination that will take your lingerie drawer by storm. You'll always have Paris if you have the this Sheer Bikini Panties in Parisian burgundy supporting you under your clothing.


Available in sizes: S - Small, M - Medium, L - Large.