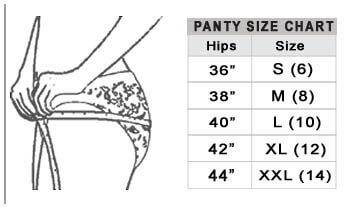 Explore your dark side with Frida Black and Purple Sheer Bikini Panties. Black lace accents over the hips create a teasingly fancy effect. It's exactly the look you'd expect to see on the runway at a European lingerie fashion show. The dainty appearance of this purple lingerie almost betrays the fact that it has been designed using fabric of the highest quality and construction. Turn this into part of a trendy sheer panties and bra set by adding Frida Black and Purple Lace Push up Bra.


Sheer elastic tulle on each hip bone accentuates your sensuality with ruffled lace under. Small front coverage and small to moderate back coverage. Passionate embroideries in front see through fabric.


Frida Black and Purple Sheer Bikini Panties are feminine, sexy and exotic. Every feature in these panties exude luxury, style and beauty. Above front solid coverage there is embellished transparent fabric, rich with an embroidered purple and white floral pattern. Curves and swirls of light beige vines and dainty purple flowers give a dramatic effect, with an European flair.


Sheer black tulle on hips, with a ruffled hem that add a touch of elegance. The back isn't sheer and offers a bit more coverage, which is perfect for women that have concerns about their bottom. Panties leave some to the imagination, and are silky and smooth against your skin.


Get ready for a sensual and exciting night when your mate sees you in these extravagant sheer bikini panties. You can take it to another level when you add the Frida Black and Purple Sheer Balconette Bra or Push up Bra and a matching garter belt.


Your lover's pulse will quicken when they see you in this powerful trio of sensual lingerie. Don't limit wearing them only in the bedroom, slide them on to wear anytime. Embrace your feminine powers day and night!


Available in sizes left: S - Small, M - Medium.