About Light Cream Cheeky Panties - Emilly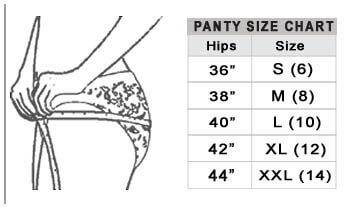 When was the last time you slipped on a pair of panties that made you feel like you were rolling around in the finest satin sheets inside a posh hotel room in Paris? Emilly Light Cream Cheeky Panties provide that perfect balance of beauty and comfort you crave. You simply won't find ivory panties that provide a smoother, more natural fit. You're going to love how this streamlined design allows you to wear your thinnest yoga pants or sheerest skirt without fear of lumps, bumps or ugly lines. You'll fall in love with the way the sheer, soft satin fabric of these panties allows your skin to breathe. It's time to finally experience how light and free you can feel without giving up the support that goes along with wearing underwear. Let these silky satin panties change the way you look at underwear forever. Stop sacrificing comfort for the sake of feeling supported. Honor your body with a new piece of lingerie that is as practical as it is whimsical.


Are you looking for light cream panties to wear beneath your wedding gown on your wedding day? Brides love these sheer satin panties because they offer the delicate beauty and simplicity they crave on their wedding days. Of course, these panties can really help to heat things up on your wedding night without the need to pack any extra pieces of lingerie. These silky satin panties will feel like heaven against your fingertips. They are guaranteed to make you feel classy and elegant each time you slip them on. Has it been far too long since you owned underwear that made you feel cute and feminine? Light Cream Cheeky Panties - Emilly are here to prove that there is a way to feel light and airy without going bare beneath your favorite dresses, skirts, shorts or pants.


Available in sizes: M - Medium, L - Large, XL - Extra Large