About Light Cream Sheer Cheeky Panties - Claire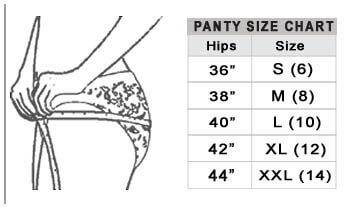 The front portion of Light Cream Sheer Cheeky Panties - Claire is deceptively demure and simple. You'll enjoy a smooth, comfortable band that features subtle scalloping along the waistline. The front is accented by lace details that are finished off with subtle gemstones that bring just a hint of sparkle to the picture. The true beauty of these panties can only be enjoyed once you turn around in the mirror to gaze upon an intricate and stunning lacework design. Much of the back portion of this panty is transparent. A flowing trim of sheer tulle with ornamental stitching works its way around a gauzy, lightweight veil of fabric. This fabric attaches to the rest of the panty seamlessly.
These cheeky panties are perfect alternative to thong pantiesas they offer similar benefits for erasing visible panty lines. However, you'll enjoy the comfort of wearing a fuller panty design when you slip on these sheer panties. You won't believe that sheer panties can be so durable and resilient. This design hugs your curves and provides just the right amount of give to deliver a truly comfortable and natural fit that still maintains the airiness of sheer panties.
It may be time to rethink the way you look at sheer panties if you're under the impression that thin, airy lingerie pieces have to be flimsy. This panty is crafted using the best that European design has to offer. Its soft, strong fabric stands apart in a world where beautiful usually means flimsy. These cheeky panties are extremely practical for a person on the go. They are lightweight enough to dry quickly after the wash. In addition, you can easily roll them up and toss them in your suitcase or overnight bag before heading out for a night away from home. Go ahead and pair these sheer panties with an equally lacy Claire bra. You will love having a matching set that's all in off white when you want seamless and invisible support beneath your comfortable clothes and slinky favorites. These cheeky panties are also the perfect shape and color for brides looking for a great design to wear beneath a wedding dress.
Sizes: S - Small, M - Medium, L - Large, XL - Extra Large.