About Sheer Cheeky Panties Blue - Curacao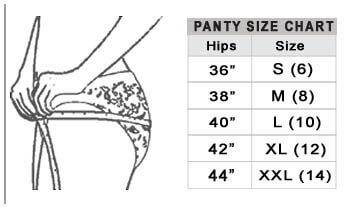 Sheer cheeky neon panties do what no other panty design can do. These sheer back panties manage to be totally exotic and completely practical at the same time. The front portion of these vivid, bright panties is a solid shade of serene blue. The front provides a level of full coverage over the bikini area that promises to look smooth and natural under every type of clothing. The back portion of this unique design is a tropical jungle full of lace fronds in hues of blue and neon lime green. There is a panel of sheer lace that creates a smooth, airy look before leading into this row of vivacious lace. This sheer panel allows whispers of skin to peek through. The shape of the panty wraps around the hips naturally and intuitively to create a smooth silhouette. All of the parts of this panty work together to ensure that it stays on comfortably and fits against the skin smoothly. This neon panty is a great alternative to a thong because it creates a sleek, breathable look without leaving things totally bare and exposed. It can be worn with skirts, shorts, vacation dresses, formal dresses and jeans to provide support without visibility.
This is a smooth, lightweight panty style that has been created using classic European design and construction. The fabrics and lace that come together to create this one-of-a-kind look are durable, resilient and soft to the touch. These sheer back panties are perfect for vacations because they can fit into an overnight bag and dry quickly in the sun after being washed. This colorful design can be paired with its matching Blue Ombré Lace Bra - Curacao to create a lingerie look that's like nothing else out there.
Sizes: S - Small, M- Medium, L - Large, XL - Extra Large.