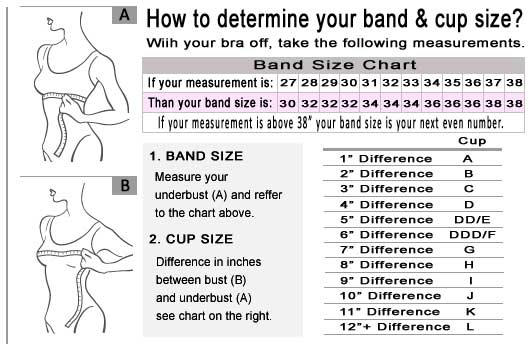 The Macy lilac lace bra with tiny delicate floral patterns on the cups is one of the favorite bras for large busted women. The cup design perfectly holds and lightly lift the breast, creating modest but very sexy cleavage and will not let for any side spills.


It is an amazing bra for everyday wear, durable in pastel coloring, ideally covering your bust under all light colored clothing. If you are not a fan of white bras and the maintenance they require, but still want to have that white lace embellishmeants, go for it. You will be amazed how round you can be again, even after all those years of looking for a bra that is practical and flattering at the same time.


This half padded full cup bra features wider bra straps in plus sizes to prevent cutting the skin on your shoulders and ultimately stretchy durable mesh band that holds the bra in place.


The padding on the bottom part of the bra cup is very thin and lined with cotton for best comfort and health issues. The gossamer white and lilac lace is so fine and close together, it is barely visible under white top. it does not show through.


Match the bra with Macy panties that are of extra thin and delicate, silky soft fabric on front, embellished with same formidable soft lace, super sheer on the back.


Available in sizes: 34C, 34D, 34DD, 34DDD, 34G, 36C, 36D, 36DD, 38C, 38D, 38DD, 38DDD, 38G, 40B, 40C, 40D, 40DD.