About Silana - Beige and Blue Lace Full Cup Bra : 34C, 36B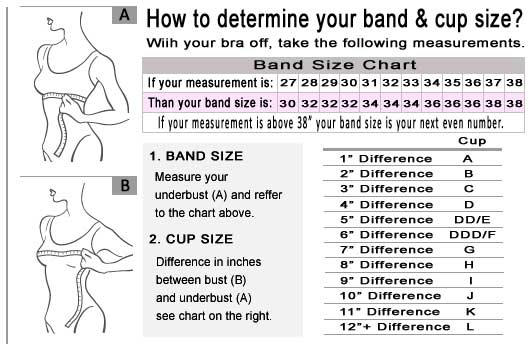 Hip and eye catching Silana full coverage bra by Ava Lingerie gives just the right amount of support. The middle part of the bra between cups is not to high to let you wear a top with deeper cleavage and not too low to leave the breast tissue overexposed. If you are a woman with D+ cup, you will love the construction of this bra overall and in every detail.

The side elastic boning under the armpit gives extra support for heavy breasts. The band fabric nicely hugs the ribs with enough elasticity to prevent irritation. The bra straps get wider with size allowing more comfort in shoulder area.

If you love cute bra design but need a bra that is practical and doesn't show lace under tight clothing, Silana bra is a choice to consider. The high quality stretch lace covers only the bottom of the cups and the top of the bra cups is smooth and soft to the touch. Featured floral design is printed, but has an appearance of embroideries from a distance.

Ava Lingerie is one of the most popular bras in Europe known for offering high comfort in wearing and this full cup bra is not different. Sewn in limited quantities as a one season collection will give you the chance to feel truly exceptional. Beige and denim blue is a lovely combination, especially if you are a denim pants type of person, who likes to match with neutral and light colored clothing.

Match this bra with Silana panties available in many sizes. The whole set will look amazing on you and in your drawer among other sweet finds you were able to collect.

Available in sizes: 32D, 32DD, 32DDD, 32G, 34C, 34D, 34DD, 34DDD, 34G, 36B, 36C, 36D, 36DD, 36DDD, 38B, 38C, 38D, 38DD, 38DDD, 40B, 40C, 40D, 40DD, 40DDD.