About Shaping High Waist Briefs Black - Sensuelle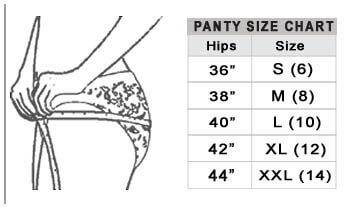 If you're ready to wear your little black dress this summer, or any dress for that matter, absolutely nothing could make you look better in it than Sensuelle Black Lace High Waist Briefs. Even if you are a woman of XL sizes, you still can look nice and smooth under tighter clothing.


High cut shaping lace high waist briefs provide you with the shaping ability to slim your curves. Maximum tummy control conceals any stomach areas you may deem undesirable. Feel sexy and irresistible with the perfect body figure and smoking sex appeal while wearing lace high waist briefs.


Hi cut black panties can remarkably conceal many areas of your stomach, love handles and perfectly define your body shape but that certainly doesn't mean they have to be uncomfortable. Sensuelle black shaping lace briefs are made of a silky soft and sleek stretchy microfiber material that shimmers in the light. It conforms to your body compactly as it keeps you continuously feeling snug and comfortable, while always ensuring you look your sexiest. Beautiful black lace panties stay in place pleasantly during movemeant.


Seams are sewn carefully and chic large zig zag seam patterns are featured on the seams traveling diagonally up the hips of these shaping lace briefs. Picot edging lines the bottom hem of this intimate hi cut panties.


A gorgeous lace material with sensual floral designs covers the middle section that ventures up in a tall trapezoid shaped design. At the top middle of this design is a unique flower pattern that gives this lingerie piece even more superb detail and unique sensual design.


Available in sizes: M - Medium, L - Large, XL - Extra Large