About Ti Amo - High Waist Briefs Light Cream: XL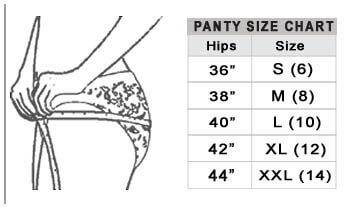 Ti Amo Light Cream High Waist Brief is an upper shelf sexy lingerie choice if you want to look flawlessly toned under tight dress or in the dimmed lights of your bedroom. These extremely high briefs offer sexy visual effects other panties simply can't touch.


These high briefs are made with a gorgeous cream colored satiny smooth and sleek material in the front midsection. The sides and back of these comfortable high waist briefs are made of stretchy pliable mesh microfiber that easily stretches and fits snugly against your body and comfortably against your skin. These sexy shaping briefs feature a beautiful distinct shiny paisley design pressed on the frontal mid section of these briefs that shimmers in the light with each movemeant you make. These super high briefs also feature delicate matching light cream lace loop edge sewn onto the bottom for a complete fashionable look.


Easily smooth your silhouette and add shape and definition to your body with these European high waist briefs. Slim your waist, perfect your hips and shape your buttocks while delighting in the added chic designs and elegant details of this lingerie piece. Feel sexy in this beautifully designed lingerie piece while wearing it alone or make a bold statemeant with every outfit you wear by flaunting the perfect body shape and daring definition with this sexy lingerie piece worn vaguely beneath your clothes.


Every woman needs a pair or two of extremely high waist shaping briefs in their lingerie drawer for a toned look and this beautifully designed piece would be the perfect addition to yours.


Available in sizes: M - Medium, L - Large, XL - Extra Large.