About Leticia - Green Sheer High Waist Brief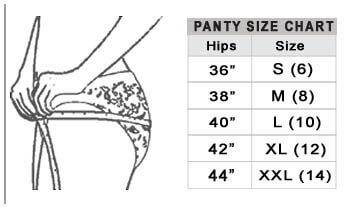 Leticia - Emerald Green High Waist Brief is a top pick for anyone who is in love with jewel tones. This piece of emerald green lingerie balances support and beauty in a way that is elegant and whimsical. These panties are constructed using the very best that modern European design has to offer. They are created using fabrics that are soft and gentle. However, the fact of the matter is that these delicate green panties are actually extremely resilient and durable. They have been designed to provide a perfect fit for a long time to come. What's more, they stand up beautifully to frequent (mesh bag) washing and wearing.
This design balances full coverage with breezy, dainty lace cutouts. These panties feature dueling panels of fabric that wrap around the hips. The panels feature stunning lace roses that crawl along the hips with help from dainty green stems and vines. A solid panel of emerald fabric covers the front portion of the underwear to create a seamless, protected look. The design is capped seamlessly by fabric boundaries at the waist and above the thighs. That means that this panty design doesn't leave lines on the skin or create a feeling of restriction. This is a great style to wear under a variety of clothing types. These panties can be counted on to create a flawless look under everything retro jeans to formal dresses.
Anyone who loves emerald green lingerie will definitely want to pair the Leticia - Emerald Green High Waist Brief with a matching Leticia bra. It's also a good idea to stock up on several pairs of this underwear style because of the way it looks and feels so good. This is a great go-to panty to choose to go under office wear.
Sizes: L - Large, XL - Extra Large, XXL - Extra Extra Large.