About Sheer Hipster Panties Pink - Claudia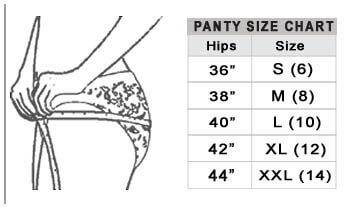 This gorgeous pair of seductive lace underwear has some very distinct beautiful darker pink colored floral ornameant designs that trail up from every angle in front and feature light pink colored seams and outlines. At the bottom of these elegant designs featured in the front of these sheerest hipster panties, you'll find bundles of pretty light pink cherry blossom flowers that add even more beautiful character to this design.


The bottom trim of these lace hipster panties have a small slightly scalloped effect in front and the seams are sewn with a mixture of both fuchsia and light pink string to create the perfect match and give these gorgeous panties even more detail and fine definition.


Claudia sheer low cut and low rise hipster panties feature a pleasant lightweight breathable material that maximize air flow and provide you with superior comfort and a relaxed feel all while keeping you looking and feeling sexy for hours to come.


The back side and bottom center of these gorgeous panties are made with smooth, stretchy intensely colored pink stretch microfiber to give you a more comfortable fit without reducing the extreme sensual effect of this one of a kind lingerie piece.


CLAUDIA Pink Hipster Panties are the perfect panties to add to your collection and use for your most romantic momeants. You can wear these sexy panties alone or combine them with the matching CLAUDIA Fuchsia Pink Sheer bra for a completely irresistible lingerie set.


Available in sizes: S - Small, M - Medium, L - Large.