About Sheer Hipster Panties White - Pamela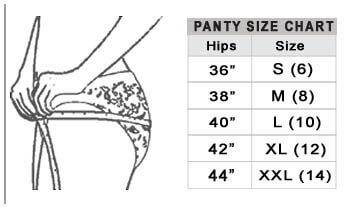 Pamela White Sheer Hipster Panties, also known as boyshort panties, however there is nothing boyish about these sexy white lace underwear! The color of white often is associated with innocence and purity. The solid back of white lace panties leaves a bit to the imagination and a dash of the innocence. But, the ultra sheer fabric in the front of these very low cut hipster panties, they are naughty!


The ultra sheer tulle fabric is embroidered with a gorgeous French embroidery design. The luxurious fabric is imported, and will feel silky and comfortable when you wear them. This white lace underwear is really quite versatile. Not only will you feel hot and provocative when you have them on, you can also feel comfortable and relaxed. The white hipster panties are designed for a comfort fit, so you don't need to worry whether you want to wear them in a business suit, a mini-skirt or a pair of jeans. Regardless of what outfit you have on, you'll still feel sexy and hot!


You won't be limited to the color of your outfit when you have on these white lace underwear. The neutral color will prevent embarrassing situations and having to worry about the color of your white hipster panties showing through your clothes. It's should be your choice to decide when you want to show off these panties, not from an accident. Don't miss out on getting this sexy pair of panties. Then, you can decide if you want to look sweet and innocent in them, or naughty and devilish. You'll definitely have your lover on fire!


Available in sizes: S - Small, M - Medium, L- Large, XL - Extra Large.