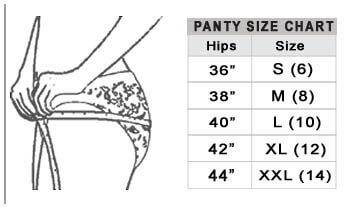 Selena White Sheer Hipster Panties bring on a new level of pulling together femininity, innocence and purity. These sheer panties from Europe may turn you into innocent angel while triggering your lover's devilish thoughts in the bedroom.


Crisp and sparkling white is a fantastic neutral color, which lets you have so much freedom with your clothing choices. While having splashes of color in your lingerie drawer is fun and bright, white is not only a great basic color, it's essential. Too many times you will find a great pair of slacks, a perfect skirt or fitted dress that you are eager to wear, only with fresh white underwear on. These white boyshort panties enable you to wear anything you want; the neutral color is perfect!


Although being a basic color, these sheer panties from Europe are certainly not neutral in appeal! An extremely low-rise cut is great for your favorite hip-hugging jeans or low-rise casual slacks. The white boyshort panties have a sheer and transparent front panel, covered with a showpiece of superb lace embroidery. A delicate needlepoint decoration of complex lace; they are exquisite! A scalloped lace graces the hems edge, whispering across the top of your thighs. Although the embroidery appears delicate in these white sheer hipster panties, you will have long wear with the durable and strong construction.


A solid back adds a bit of modesty to the white boyshort panties, while the sheer front makes sure you won't seem too angelic and sweet. The elastic back is a great feature, giving you a bit of extra room and comfort. The sheer panties from Europe are an ideal bridal gift, honeymoon or wedding night garmeant. Regardless if you are purchasing these white sheer hipster panties as a gift for someone else or a gift for yourself, you can't go wrong! Complete the look of an angel with the Selena White Sheer Balconette Bra. The only other accessories you will still need is your wings and halo!


Sizes: S (Small), M (Medium), L (Large), XL (Extra Large).