About Sheer Hipster Panties Black - Zoe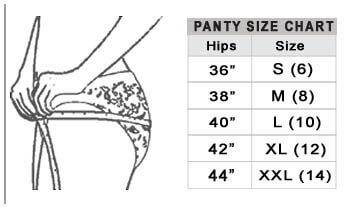 If fashion is your passion, you need the Zoe Black Sheer Hipster Panties. These fine sheer panties will make you look hip and stylish whether you're fully covered or baring it all. This gorgeous design is drizzled in lilac lacework that will make you feel like a princess. You'll love the way a healthy dose of tulle fabric offers sultry peeks at your skin from beneath intricate floral etchings. These fine sheer panties get their shape from a scalloped edge that follows the contours right above your thighs. The low rise boyshort panties make it possible to wear even the slinkiest of skirts, pants, shorts and dresses without worrying about telltale panty lines or unsightly lumps of fabric. These fine sheer panties rise low to give your tummy plenty of room to breathe. While this design features a totally sheer front, its back is completely covered to offer maximum support and coverage. What's more, these sheer hipster panties will hug your hips tightly without causing discomfort or restricting your ability to glide like the gorgeous butterfly you were meant to be.


If you're tired of underwear that loses its shape and luster after a few wears and washes, this style is the answer to your dreams. Every inch of these magnificent sheer hipster panties is constructed using the highest levels of quality and craftsmanship. They are meant to survive your hectic lifestyle without ripping, tearing or bunching, if washed safely in a mesh bag of course. The way they feel in your hands will let you know that they were designed and brought to life by skilled, careful hands in Europe. While these panties definitely deserve a place in your wardrobe rotation, they are also perfect if you're looking for a quick way to feel sexy for a special night at home. If you want to throw together an irresistible ensemble, be sure to get your hands on the Zoe Unlined Black Sheer Balconette to complete the look.


Sizes: S (Small), M (Medium), L (large), XL (Extra Large).