About Gabriella - Coral Sheer Hipster Panties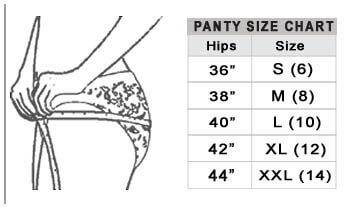 You haven't truly felt sexy until you've worn the Gabriella Coral Sheer Hipster Panties. This sheer coral design is definitely something to get your panties in a twist over. What you'll love most about these ultra sheer panties is that they aren't just designed to look pretty. They also offer some serious coverage and support that will make you feel amazing whether you're wearing a skirt, pants or shorts.


Wiesmann's low rise sheer panties were designed using the best in fabric technology and craftsmanship. No amount of quality or thought was spared during the design process that went into creating these durable, delicate panties. You're going to love the fact that a pair of panties this sexy can actually be comfortable enough for day-to-day wear to school, work or wherever else your busy life takes you. They offer the perfect amount of support for your derriere, thighs and tummy area. You will feel totally light and free when you strut around knowing that these gorgeous panties are hiding under your clothes. Whether you plan on keeping these panties to yourself or showing them off to someone special, you will be totally satisfies.


Have you been looking everywhere for high-quality coral underwear for the bedroom? These ultra sheer panties offer the perfect way to look sexy and classy without putting a lot of effort into planning a romantic, alluring bedroom look. If you want to create a truly irresistible ensemble, make sure you buy the matching Gabriella Unlined Sheer Balconette Bra to go along with your fun new underwear. It's time to go bold and unleash your playful side by adding a pair of bright, attractive coral underwear to your lingerie drawer.

Available in sizes: L, XL.