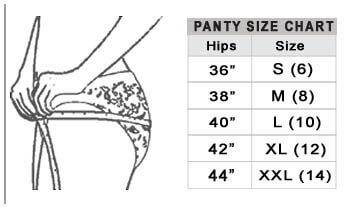 Cheri Mocha Cheeky Bikini Panties are a great choice for all tastes. The beautiful mocha color is very versatile and looks appealing with any skin tone. The mocha color might make you think of warm colors of fall leaves, your favorite mocha coffee beverage or the deep brown of an adorable puppies eyes. This beautiful color is warm and deep, and the material is smooth and soft.


These European panties have a unique cheeky style, but in an elegant and classic way. Two tones of mocha fabric complimeant each other, and come together for a great effect. The middle front panel features the deepest and darkest color of mocha. There is an embroidered design on the front middle panel of these mocha panties. The complex embroidery is ivory, and creates simple and sophisticated detail. The side front panels are a lighter, more subtle tone of mocha. The hem's design follows the style of the other elemeants in these mocha panties, delicate and refined.


The crotch area is the lighter mocha color, and the contrast is in an understated style. The style isn't one full of flash and overstated, it's a design for cultured tastes. These European panties have a traditional bikini-cut that sits below the navel, and has been masterfully tailored for comfort.


Cheri panties are perfect to wear any time of the day or night. If that's what you're looking for, these are for you! Cheri Mocha Padded Balconette Bra pairs perfectly with these panties, as they are the matching part. Fall in love with yourself and mocha every time you have these on!

Available in sizes: L - Large, XL - Extra Large, XXL - Extra Extra Large.