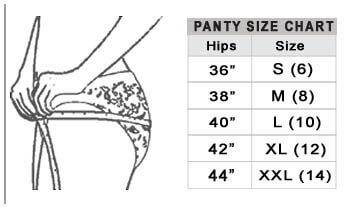 This lovely design and light cream color is similar to the exquisite pattern of a Victorian vintage doily. The lace creation is reminiscent of antique lace, hand-created by a seamstress with only the up-most skill and expertise. Imagine in the Victorian Era, this beautiful lingerie would only be worn by the Queen or members of the royal family, as it is decadent and superior quality.


While these light cream bikini panties seem delicate and fragile, they are extremely durable and strong in construction. The double mesh lace panel promises a soft, silky feel against your skin and are transparent and sexy. The front and back have a sheer tulle fabric. Imported from Europe, the heirloom-style light cream bikini panties are a tribute to the European fashions during Victorian times. But they are very stylish and contemporary, perfect for the modern-day woman. A woman who enjoys a classic design, but with a flair of a vintage appeal.


Expect to feel completely comfortable and sexy when you put these sheer panties on for the day. While they are alluring with their sheer and lace design, you will feel exceptional relaxed and pleasant when you are wearing them. The cotton crotch adds to your comfort level, but doesn't take away from the charm. Don't forget that this light cream color will give you the ability to pair them with all types of clothing choices. You'll never have to worry that the color of your panties are showing under your favorite slacks, not when you have these on.


Add another dimension to these beauties and pair them with a Selena Light Cream Sheer Balconette Bra or the Selena Light Cream Unlined Sheer Bra. Both choices would be a perfect companion to emphasize the opulence and luxury of these panties. You may feel like you have stepped back to times past, or a woman of today who loves demurely sexy lingerie when you slide them on. Either way, you'll look and feel gorgeous!

Available in sizes: S - Small, M - Medium, L - Large, XL - Extra Large.