About Sheer Thong Panties Black - Frida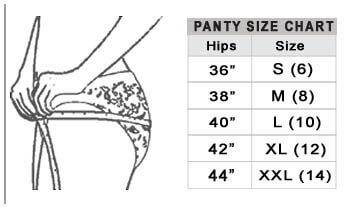 You will feel like the queen of your boudoir when you have on this pair of Frida Black and Purple Sheer Thongs. The front has a black chiffon tulle fabric, and gives the panties a slight peek-a-boo effect. The tulle material is richly embroidered with a deep, rich purple and beige floral design. The floral pattern and regal purple create a majestic and royal combination, an elegant fit for a queen. Both front sides of these panties are made with double layer of black elastic sheer mesh what creates a dramatic and remarkable effect. Bottom front made of solid black elastic fabric that is not transparent. Stretch sheer back of these thongs is soft and comfortable, while you still can feel sensual and seductive.


When Queen Elizabeth I reigned, wearing the color of purple signified that you were a member of the royal family. During this period, clothes fashioned with the color of purple were luxurious and extravagant; just as this pair of sheer lace thongs is of superior craftsmanship and design. The imported fabric is extremely opulent, and will feel silky and soft as you wear this piece of sexy lingerie.


A delicate touch of sheer ruffle along the hip creates even more feminine look. Although the sheer back is a bit on the naughty side, it still leaves something to the imagination. You will love wearing the sheer lace thongs when you are ruling in your bedroom, but it isn't limited to being only sexy lingerie. The panties are comfortable, you can wear them with any outfit: professional, casual or with your own private audience in your bedchamber. You should feel like a queen, regardless of what you have on. If you want to complete your royal ensemble, add the matching Black and Purple Sheer Balconette Bra or Push up Bra and a Garter Belt; the results will have your king bowing at your feet!


Available in sizes: S - Small, M - Medium, L - Large.