About Sheer Thong Panties Pink - Claudia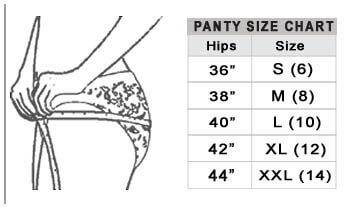 Let your lover explore the delights and pleasures of your secret garden with this pair of peekaboo low rise sheer thongs! CLAUDIA Pink Sheer Thongs by Wiesmann have a bright satin and lace pattern. The tulle and multi colored embroideries mimic the colors of an exotic bouquet of flowers. The pattern on each hip looks as if there is a fuchsia pink heart embracing a bed of fresh lilac blossoms, with a field of silky fuchsia pink material dividing the flower beds. The field of imported fabric is silky and luxurious, beckoning your lover to explore the other wonders in your garden.


This pair of low rise sheer thong panties shows such an intricate detail in design and master craftsmanship. The border of this naughty garden is a lovely lacy embroideries creation, emphasizing the peekaboo effect of the tulle fabric and multi colored embroideries. Your gardener won't be able to keep his eyes - or hands - off of your colorful blooms. The low rise sheer thongs are not only a sexy treat to wear, but also a comfortable and practical choice. When you think of sheer panties, you think of alluring and sensual lingerie, and don't always think of comfort and durability; it's such a plus when you can get both. You will truly feel prize-worthy when you add the matching Claudia Pink and Lilac Sheer Bra. Your lover will have to discover every petal of your flowers; your garden needs a gentle touch to help it thrive, grow and bloom!


Available in sizes: S - Small, M - Medium, L - Large.