About Selena - Light Cream Seamless Thongs: XL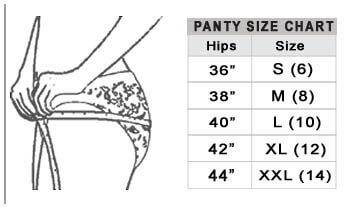 Light cream sheer thong panties are made to offer you flawlessly seamless fit under lightest summer clothing. Strong stretch French tulle kisses the body all around your hips and cumulates on front with exceptional embroidered design. The double layer of sheer mesh secures sturdy construction and prevents from uncomfortable scratching coming from floral threads. High quality garmeant to make you look stunning and confident all day long.


Make Wiesmann sheer panties in lightest beige shade your golden bronze tan even more radiant. The cream color lingerie suits well blonde and brunettes, especially if you like a neutral everyday look.


Match Selena sheer seamless thongs with Selena Light Cream Sheer Balconette Bra to create a wow effect. Matching sets accentuate your best assets and draw attention away from imperfectiones.


Available in sizes: S - Small, M - Medium, L - Large, XL - Extra Large.