About Selena - Seamless White Sheer Thongs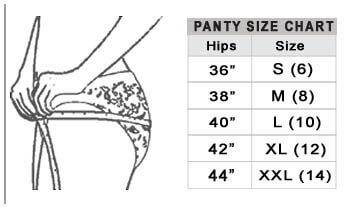 If you crave fabric that looks and feels as smooth as vanilla icing, only the Selena Seamless White Sheer Thongs will do. We promise that nobody will be able to say "no" to enjoying a sweet taste of your style when you slip into this comfy, high-quality design. Get ready to enjoy a pair of seamless sheer underwear that was designed to work with a woman's curves.


The front of this style features intricate embroidery that exudes quality and craftsmanship. Unlike the flimsy designs that are offered by many lingerie brands today, these white sheer thongs are actually meant to survive through many wears. When you make a pair of these your own, you'll discover why every woman needs seamless sheer underwear in her wardrobe. If you thought that white underwear had to be bland in order to be functional, be prepared to have your mind changed the very first time your fingers run over the soft, hypnotic fabric of this amazing thong underwear.


Let the Selena Seamless White Sheer Thongs be your secret weapon for looking amazing and feeling free. These white sheer thongs are designed without seams to offer the most subtle way to enjoy support beneath pants, skirts and dresses of all styles. You won't have to worry about lines showing through even if you slip on a pair of stretchy yoga pants or a clingy pencil skirt. Of course, this style of seamless sheer underwear can be just as much fun for hanging around the bedroom as it is for dressing up. You'll love how fresh and sexy you'll feel when you prance around in this crisp and flattering design. If you want to create a flawlessly sexy ensemble, be sure to pair your new underwear with the Selena White Sheer Balconette Bra.


Sizes: S (Small), M (Medium), L (Large), XL (Extra Large).