About Gabriella - Coral Sheer Thongs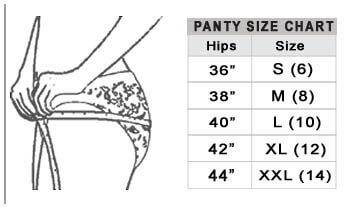 The Gabriella Coral Sheer Thongs are about to take your panty drawer to the next level. Embrace the beauty and luxury that coral lingerie can offer each and every time you slip on these European sheer panties. These gorgeous panties feature a thong cut with a solid back. You're sure to appreciate the careful stitching and craftsmanship that is so obvious on every inch of this stunning design. You can count on these panties to keep their shape and brilliance wear after wear. These panties truly offer the right amount of support in all the right places. Of course, they feel so light and sheer that it will be easy to forget that you're even wearing underwear at all! Go ahead and give a goodbye kiss to painful elastic bands or restrictive panty lines. This style of coral underwear will look smooth and seamless beneath your favorite jeans, yoga pants, dress, skirt or shorts. You'll love the way this sheer design shows off previews of your skin. Why are you still wearing boring underwear? Treat yourself to fiery panties that show off your bold side.
The attention-grabbing shade of this coral underwear design is hard to resist. Whether you'll be wearing these out on the town or saving them for playful nights in the bedroom, you'll feel confident and sexy as soon as you slip them on. These European sheer panties can be worn with a muted bra or paired with other striking pieces of coral lingerie. While they are practical enough to be worn every day of the week, nobody will blame you if you choose to save them for special occasions. Do you love wearing bold scarves or painting your lips with vibrant shades of red lipstick? If so, you're definitely the type of girl who will love the Gabriella Coral Sheer Thongs.
Available in sizes: S - Small, M - Medium, L - Large, XL - Extra Large.