About Katie - Black Sheer Lace Thongs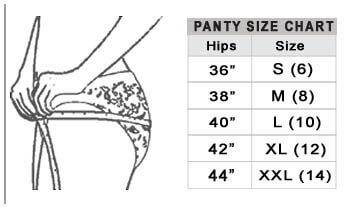 If you're looking for black thongs that break all the rules, discover Katie Black Sheer Lace Thongs. Who says you have to suffer through an uncomfortable fit just to avoid panty lines? These sheer lace thongs are redefining comfort. You'll love how this sheer design makes you feel better than going nude under your silkiest and lightest pieces of clothing. The crotch is designed with comfortable, strong cotton that provides support exactly where and how you need it! The front portion of these thongs provides the perfect amount of coverage to hug your lower waist and keep everything looking smooth. You're going to love knowing that you can move around with ease without worrying about your underwear slipping out of place or causing you some serious discomfort. It has simply never been easier to feel light and free without going bare!


Why settle for cheap, flimsy thongs that will only last through a few washes and wears? You can choose to enjoy the feel of high-quality, carefully constructed lingerie against your skin. Katie Black Sheer Lace Thongs are designed and made in Europe. Only a style that was carefully created using the best materials and craftsmanship could provide so much comfort, beauty and dependability. You can enjoy the confidence of knowing that these thongs will keep their shape and beauty every time you wear them. Have you thought about all the things you'll do once you get your hands on this delectable design? There's a lot you can do with these black thongs. They will fit like perfection under dress pants, capris, yoga pants, shorts, tight-fitting dresses and skirts. It will feel so liberating to get up and go in the morning without stressing out over how to conceal unattractive panty lines under your favorite pair of pants. Of course, a design this sultry deserves a special space in your lingerie drawer where your romantic pieces go! You can have a lot of fun mixing and matching these sheer lace thongs with your favorite bras, garters and other accessories.

Available in sizes: S - Small, M - Medium, L - Large, XL - Extra Large.