About Leticia - Green Lace Sheer Thongs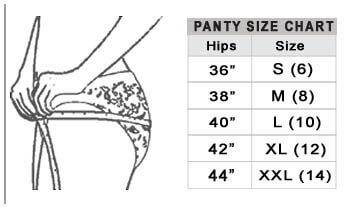 Leticia Green Lace Sheer Thongs bring the concept of luxury thongs to the next level with help from beautiful lace accents and seamless fabric. This style offers a way to wear green lace panties without ever needing to worry about panty lines, lumps or bumps. These luxury thongs create a smooth, seamless fit that disappears under a wide variety of fabric cuts and styles. The vivid green coloring of these panties must be seen in person to truly be appreciated in its fullness. A panel of vibrant green fabric is accented by sheer panels of green lace that are covered in rose etchings.
The impeccable construction of these green lace panties must be noted. The most impressive elements of modern European design are all at work in this piece of lingerie. Every stitch has been carefully plotted to create a webbed garden of green delights. The same level of craftsmanship that creates such a beautiful design also helps to give this thong the strength and structure it needs to provide a comfortable fit around the clock. This emerald green thong was built to stay in place and cover all the right areas.
Leticia Green Lace Sheer Thongs are practical enough to wear with sleek pants, dresses and skirts at the office. Of course, a look this gorgeous can also be saved for special occasions. The light nature of this panty design makes it a breeze to wash, dry and wear. These luxury thongs can be easily paired with a matching Leticia bra to create a perfect gift.
Sizes: S (Small), M (Medium), L (Large), XL (Extra Large).