About Ines - Black Sheer Thongs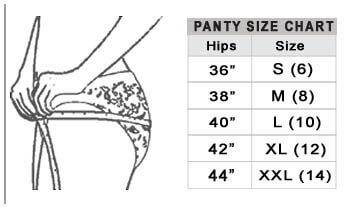 There are no other more universal and versatile panties than sheer black thongs. Ines Black Sheer Thongs has made a stunning example of what is best option. You want the look and the feel of near-nothingness while having on a functional layer. Since prehistoric times thongs earned the fame as giving most comfort while moving. They also have been considered and appreciated as the part of lingerie that exposed the most vital and strong portion of the legs. Not only should the derriere be allowed its freedom, but anyone can appreciate the beauty that a tiny black thong can bring to your figure.

Ines embroidered black floral thongs have simple design that is appropriate for all occasions. Good, bad, angry, fat, sick, and all other days that you choose, your sheer thong will provide the breathing freedom of feeling sexy and looking fantastic. There is no shape this little wonder will not enhance. It is simple enough to be worn without worry, and provides glamour at the same time.
The back is a classic Y that resists rolling, bunching and drooping. The front is mysteriously see through sheer tulle with artistic Victorian ivy-like embroidered highlights. There is a full, soft black panel underneath that protects, but never gets in the way of your minimalist sheer expression. The stitched borders of Ines thongs do not contrast with the overall design and are sturdy enough to maintain the garmeant's unique form for a very long time.

The amazing thing about this particular black floral thong is, although it looks fantastic on you, it has the tendency to create situations where it is likely to come off. This thong treats you like a queen, but it's up to you and whomever you are with to treat it how you choose!

For gaining even more sensual power pair the Ines sheer thongs with Ines Black Sheer Bra. You sure will look irresistible!

These lace thongs live up to their original design for usefulness and your expectations for a sexy, flattering and beautifully addiction creating panty.

Available in sizes: S - Small, M - Medium, L - Large, XL - Extra Large.