About Pamela - Raspberry Red Sheer Thongs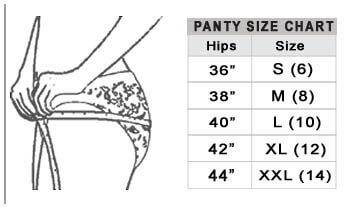 Ripe, juicy berries can't compete with the succulence of Pamela Raspberry Red Sheer Thongs. The design of this raspberry delight offer seamless coverage on all sides of a woman's figure. A generous mix of fabric and embroidered lace offers all the support and structure of a classic panty. The back of the sheer tulle thong panties hugs a woman's hips with ultra sheer, soft, luxurious fabric. This ravishingly red sheer thongs brighten any skin tone. Don't forget to pair your delectable new thong with the Wiesmann's Pamela bra in raspberry. Pick Pamela Raspberry Red Sheer Thongs off the vine to add to your collection today.


Prove that every night should end with something sweet by slipping on these red sheer thongs. These sheer thongs are as tempting as red, ripe berries sitting on the vine. You'll enjoy a sheer lace front and seamless back when you slide on this gorgeous design. These thongs are carefully designed to be free of bumps, lines or bulges that could spoil your look. They look absolutely flawless when worn under pants, dresses and skirts of all styles. Of course, the ravishing red tone of these thongs will look absolutely radiant against your bare skin.


You can finally enjoy a style that offers fantastic support on every side while creating a sexy, sensual impression. A top quality sheer mesh fabric will wrap over your hips and leave you feeling confident enough to get on the dance floor or try a few moves out at home. You simply won't believe how a style so dainty and delicate could feel so substantial on your body. Create a perfect look by combining these red sheer thongs with the Pamela Raspberry Red Sheer Balconette Bra. If you're looking for a way to add some juice to your lingerie routine, pluck these thongs off the vine today and add them to your collection.


Available in sizes: S - Small, M - Medium, L - Large.