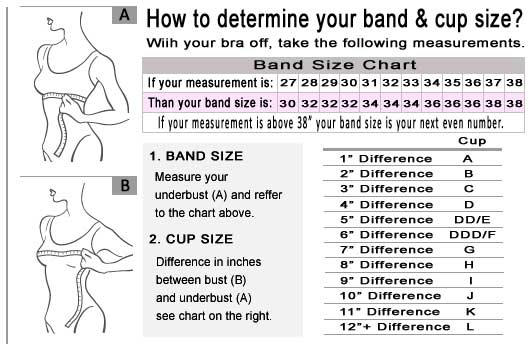 T-shirt style wireless bra refined to give the maximum support without using underwires. The bra extends towards the back to give the invisible shoulder appearance under clothing. It features built-in cushions, that release all the stress from shoulders. On the back part the straps are wider to prevent skin pinching and cutting, they are fully adjustable.


The bra both for small and large breasted women, perfectly gathers and support the breast with its polished construction to satisfy women with smaller and full, heavy breast. The composed vertical cuts on the bottom part of cups create the lift effect seen in balconette styles without necessity to use padding or inserts. The bra is designed to complete all the features of a comfort bra. Women with extra sensitive skin will appreciate the soft cups lined with cotton mesh, that don't create any irritation and stop the sweat from creating discomfort.


The floral decorative embroideries are made with precision with the flat appearance, which is not visible under thin shirts. The bra is lightweight and soft. It is easy to wash in a washing machine on low temperature, preferably in a mesh bag or other protection.


This wire-free bra in beige has all the important features to give nothing but comfort and polished look. Comfort-giving wider bra band is of between 4" to almost 5" wide to support all the flesh, not creating bulges and under armpit discomfort. The bra straps also wider, measure 3/4".


If you are looking for a wireless bra of European quality for moderate price, you will be excited to keep Zofia Wireless Bra in and off your drawer at everyday occasion. Either you are an older woman, who care for comfort and coverage the most, or a younger woman that doesn't want to create much of the uplift and rather likes to have a modest lingerie on, this is the bra to satisfy your needs.


Available in sizes: 34C, 34D, 34DD, 34DDD, 34G, 34H, 36C, 36D, 36DD, 36DDD, 36G, 36H, 38C, 38D, 38DD, 38DDD, 38G, 38H, 40C, 40D, 40DD, 40DDD, 40G, 40H.