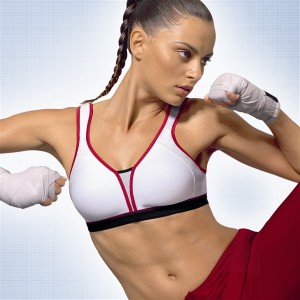 With so many styles of bras out there to choose from, such as: a push up bra, a balconette bra and a soft bra, how is a sports bra different from the rest? Lets take a quick look. The styles can vary widely by fit, shape, color, and fabric.
They offer support, coverage, and comfort and some may additionally offer a sensual look or feel. A push up bra is considered a fashion bra that will lift and create the appearance of increased cleavage. It has an underwire and is usually made in a wide variety of colors and fabrics. Another fashion bra is the balconette bra. It offers very little coverage, but it will lift, shape, and enhance the appearance of the cleavage. It also has an underwire but may be made of sheer material.
The soft bra is considered a more basic design. It is offered in different colors and styles as well. Generally lighter and more comfortable bra, even thought it also gives the necessary support. Now aside from the styles, the colors, the fashion, and the fit, what about the support for those that enjoy athletic activities? With the running, jumping and maybe some kicking or punching in certain sport or workout activities, more support is needed to lessen the breast movemeant.
This is where the sports bra differs from the rest of the bras. A sports bra is designed better for athletic activities and also offers a variety of styles and colors. It is usually made of stretchable and absorbent fabric like spandex. Fabrics used are to help keep perspiration of the skin, what reduces irritation. Its designs are suitably made for different athletic activities from running to yoga and even for a tough day of work in the yard. For all the activities in life, whether it is a workout, an evening out or just relaxation on the couch, there are many bra styles to choose from.