Ladies of all ages, shapes and sizes this one is for you. When it comes to fashion and appearance we all seek to look our best. From the hats on our heads to the shoes on our feet we want to look fantastic.
Today let's talk about that really special area we love to emphasize. That's right - the breasts, the boobs, the chest, the girls. Focusing on the right bra for your particular style is a great place to start for the appropriate support you need to help you look your best.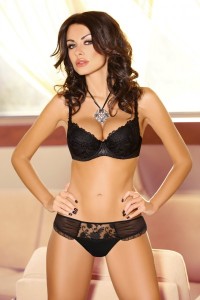 The best bra with push up isn't always as easy to as it seems. Depending on your personal attributes the best bra should at least include the necessary provisions for your particular needs. So, one bra for you may not be the greatest bra for another. But one thing we all need is a comfortable and supportive bra.
Bra support comes in varying designs. When we look at the models in many of the magazines today we see that the push up brassiere is probably the top selling supportive bra around. Wearing a push up bra is like a little slice of heaven for many of us who need an extra push. A push up, that is. Hence the name, "push up bra".
But within every woman lives the challenge of how our personal assets will look being pushed up. Then we come to happily discover there are several options for the best push up bras for our every shape and size. There is nothing like easing our worried minds over the smallest details.
The best push up bra can depend on many factors. Cleavage is number one on the list. The type of clothes we choose to wear, the type of activity we will be engaged in and the personal preference of push up performance all play a role in the selection of the best bra. Push ups are made to accentuate every woman's body because every woman looks stunning in a push up bra. Here are two great examples of today's best push up bras for your entertainmeant pleasure.
BACKLESS BRAS offer push up performance with the benefit a plunging back. This bra provides the perfect support for halter tops, strapless dresses, backless outfits and a plunging neckline.
BALCONETTE BRAS, also known as the balcony bra is popular for low-cut blouses, dresses and sweaters covering less of the breast for a sexier look and feel. Don't worry about support. It's there.
Don't be afraid to try out all of your favorites. Remember ladies, every bra has the perfect owner and every owner has the perfect bra made just for her.