Is it even possible? Going from size 34G bra to 32D bra in just one year? Considering that most women wear the same bra size through out their lives, it seems pretty incredible. The fact they do keep the same bra size is more then insane to all bra fitting experts.
Gaining just 5 pounds can become the one single factor to cause bra size change from 34DDD to 34G bra.
It all started with the first bra. In my case, I was diagnosed by my mom to be the same as hers, that is 34B. No bra fitting, no doubts. It fit, as other sizes would probably do as well. Back then I had no idea, how the bra should really fit and pulling the bra back down every now and then was a regular daily routine for me. Only now, 20 years later I could correct it. I must have been 32C or 30D instead - duh!
I was so skinny, how possibly I could have worn band 34 with that small body.
Later, after first year spent in the country ruled by cheese pizza, chicken nuggets and chocolate chip cookies (guess which one I am talking about), I finally felt that the bra I still had (yup, it sounds unbelievable but most of you ladies still keep the same bra for centuries) gave me support around the chest - only the two little girls were not so little anymore and were falling out. I was 22 lbs heavier and upgraded to a 34D, still way to go to the peak 34G bra. With 34D I fell in love with sheer bras,especially unlined balconettes. I didn't know back then that this love came from the fact that the bra size was finally correct, by accident. Finally I was thick enough for band 34 and cup D felt amazing. As soon as pizza was not on my menu anymore, this love faded away. The bras looked kind of OK, but why didn't they create that push up effect anymore? If I only knew back then that simply the band became too loose with my new old body and no sexy unlined bra would ever looked the same.
I switched to 34C hoping the smaller cup is the solution and struggled for years - where size 32D would have made me just as happy as 34D before. The time of my first pregnancy and a year after was the real roller coaster in the bra department. I was buying new bras every 2 months and still couldn't keep the track. Here is the part only lingerie lovers can understand. I did not compromise for cotton sport bras, although comfy nursing sleep bras are the easiest to find. Hey, I remember wearing beach triangle bikini top in the winter months, instead of shuffling with different sizes all the time. Lesson learned:
Heavy breast hurts when you don't get the proper support, and if you don't want your bra straps kill you from carrying all the luggage, it is better to invest in good underwire bras.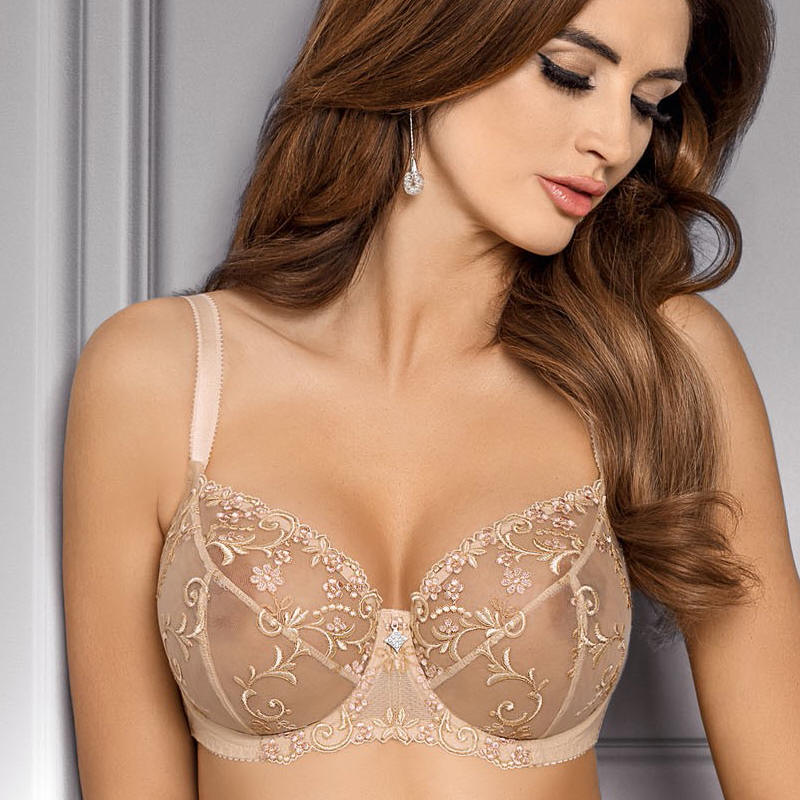 That's when I really got into bra fitting secrets. There is so much to understand and only honest bra fitters who have a wide range of sizes to offer, will tell you the truth. I remember rushing back to Victoria's Secret in my neighborhood to test what I learned. After measuring me in my push up bra on I heard: "You should try 36D, I am sure of that" - advised the assistant in high pitched voice tone. Really? "Should I wear this bra on top of the bra I have on? " After getting in almost an argument I was able to try 34DDD bra which according to my own measurements and the shop assistant's surprise it fit! The funniest part I heard in the VS fitting room was "You just have too pull the back down and don't touch the straps so you won't have to pull it back up again".
For those who don't know much about bra fitting - if the bra band goes up, you don't keep the bra straps long and loose, but change a bra to a smaller band and a bigger cup! After hearing similar stories I decided to stay away from this company. Shortly before my second baby I discovered Lacy Hint bra store. Right on time, as this time my pride jumped straight into sheer lace 34G bra (the sizes are available up to H cup). Support without sacrificing the look. I am sure you are curious what about the summer time and beach days? Freya, Freya, Freya. I made special orders straight from UK websites and completely fell in love with the style and given support from plunge bikini tops. Just remember to convert the US size to UK size before: US 34G = UK 34F.
Don't ever stay away from underwire bras and bikini tops if you want the round and compressed look, not the swinging left and right or "2 boobs look like 1 big boob". How I actually came back from 34G bra to size 32D? Two years after my second baby was born my goal was to come back to my previous silhouette or close to it. I decided to go one low carb and high protein diet - not really a diet, just balanced nutrition meals with no fried food nor sweet snacks on the menu and it all happened. No lies there - I sweat on the gym 4-5 days a week and took weekly yoga classes with inspirational Rassika Bourgi. But most importantly, with the weight loss the bra size changes as the same! My drawer was changing from size 34G bra, to 34DDD, to 34DD and then it jumped to 32DDD (at this point I became skinnier in the band area with the same sized breast => 34DD cup is equal to 32DDD cup); from there to 32DD, all the way down to 32D. In one year.
Many women with my small frame would still wear band 34 or even 36 with the cups going down to B, thinking that no bra will ever feel comfortable or supportive. In my case 34C instead of 32D would mean the bust not filling the cup in top portion and underwires uncomfortably rubbing the skin because of not sitting firm. 36B bra would just work as a breast camouflage with no support whatsoever.