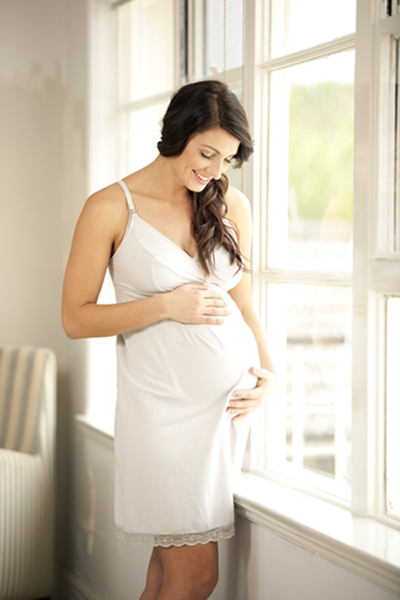 It's a common practice with many expectant women to put so much focus on what they wear and how they look during daytime, but simply put little effort to look good when choosing their sleepwear. However, there is now an influx of new retailers focusing on maternity sleepwear, and a growing market for stylish pregnancy clothing. This means the pregnant woman can feel pretty comfortable, have a peaceful and sleepy night. Getting a good night's sleep can be quite an ordeal. Any woman that has ever been pregnant will testify that it's not as much fun, when they can't get enough sleep or sleep at all, due to the frequent visits to the bathroom, and when the baby is seemingly tap dancing their way through the night.
For expectant ladies, wearing comfortable sleepwear should be a number one priority. There is a definite evolution in maternity sleepwear that caters for fashion focused women, to help them indulge in modern sleepwear that will boost their confidence and guarantee a good night's rest. Additionally, the maternity sleepwear comes with ease-of-breastfeeding functionality, once the baby is born. Some of the beautiful maternity sleepwear choices to consider include: a vibrant camisole in jersey cotton, which is a great fabric for total comfort, floral nightshirts that have a really snug fit around the body, to provide added support while sleeping, a lacy nursing nightdress made from a stretchy viscose or elastic material and pajamas.
The pajama look has also become a standout trend on runways around the world. Women, expectant or not, are giving a more fine touch to their after-hours wear. The beauty of a comfortable set of pure cotton nursing pajamas is that it has several benefits such as; not only will they help you get a comfortable night's rest, but also offer breastfeeding convenience after delivery.
Don't let pregnancy make you feel lumpy; trying to fit into your old clothes or even your husband's ugly t-shirts. They will not do much to improve your self-image. Embrace your new shape and curves both day and night. There are many super sexy maternity sleepwear styles available today, made especially for expectant women and even nursing mothers. Feeling like a yummy mummy doesn't have to start from child birth. Being pregnant is a beautiful thing and it should be celebrated. Look gorgeous and sleep well in a sexy maternity sleepwear. Enjoy your pregnancy with comfortable and stylish sleepwear.