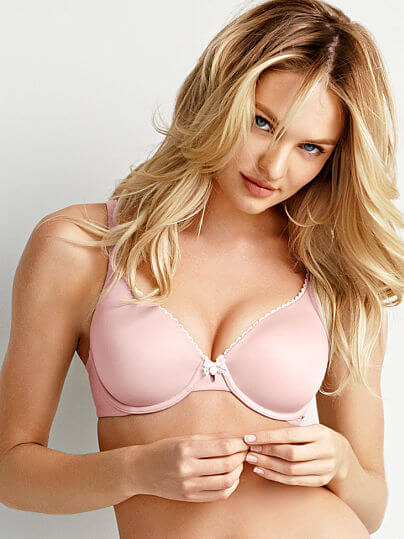 As a woman who grew up wearing bras that were purchased for their price instead of their fit, coming across a bra that was designed to support and cover was a momeantous momeant in my life. I was so tired of getting poked by under wire, clumping padding, and lack of support that I finally broke down and ventured into Victoria Secret.
This adventure was spectacular! I immediately fell in love with the Body by Victoria Perfect Coverage line. These bras do some pretty amazing things. I have never been able to find a bra that covered my naturally beautiful DD self, however these do. I started with one that would be great for every day wear that is a natural color, but ever so soft and comfortable. The straps are just the right size so that they provide the right support yet don't feel large and clunky.
There is enough padding to dim any unwanted headlight activity and has not clumped at all. Since the staff sizes there and is concerned with the right fit, it wears just right so that I don't know it's there and has not yet caused any pain in my neck or back like most others have done.
Although there are many other lines available and other stores to choose from, that will not do for me. When I can finally find something that covers perfectly for any top, keeps me from falling out the bottom, prevents spilling out when bending over, makes me feel feminine, and affordable ($40-50 regular price), I will never go anywhere else or look at any other line. When one hears the angels sing, it is a sign not to be ignored!