Fashion is a personal choice that helps to reflect your inner beauty. It helps you to eloquently express yourself in a wider perspective. Needless to say that it boosts your confidence by extracting the enchanting aura from deep within your glowing soul. Every single thought of fashion brings you closer to your own personal self. Fashion helps to express beauty and accessories help to define fashion. Accessories and fashion co-relate, complimeant and catalyze each other's performance. You buy accessories to enhance your look and to express your fashionable demeanor.
Accessories help you to define your fashionable taste and complete it with elegance and sophistication.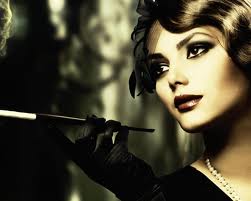 Have you ever groomed yourself to look more fashionable? The answer undoubtedly is a big "YES". Have you ever indulged yourself in modern accessories to complete your outlook? Accessories do help you to portray a look more complete and fine but choosing the right accessories is a tedious job. Selecting accessories that do not fit the decorum may lead to a grave disaster and the ruin the beauty of your new look. Hence, choosing the right accessories and mixing and matching them with the right outfit are the key to an ultimate fashion. Sexy jewelry like a delicate piece of Swarovski will help you define any outfit you choose to wear. It's right for any occasion too.
A gaudier piece is somber enough to complimeant an evening wear. Pearl strands mesmerize the modern look with a touch of traditional flavor. They look sexy and you feel the beauty every time you wear them. Breaking the traditional shackles and thinking out of the box will also help you to accessorize yourself to the finer level. For instance, leather bracelets with dangling charms sweeps a casual outfit with a hint of freedom and style. Allow a simple leather bracelet by Tory Burch or, at the opposite price end - Etsy, to adorn your wrist and sport the most chic look in town. Come summer and the beautiful faces love to hide behind trendy sun glasses that promise to save you from the so-called harmful UV rays. Choose something that defines your face than anything that outgrows your facial structure. A belt is a must have in a fashion conscious lady's wardrobe. An A line dress when coupled with a thin colorful belt is sure to steal many glances. A complete style can only be attained with a gorgeous fashion purse.
A fashion purse will help you to add that extra binge to your new look and you will feel much more confident and outgoing. Choose from the myriad trendy designs available in the market and watch you bloom. Clutches, French hobos, satchels are a few that will always help you accentuate your sense of fashion. Keep on experimeanting, try new trends but while doing so do not forget your boundaries. Overdoing anything will mar the new look. Indulgence is good but over indulgence is surely tragic. Experimeant with Indian face jewelry like a nose pin. Start by buying a small nose pin and then study how it feels to you and how you feel wearing it. Pondering on winter accessories is as important as pondering on the accessories of the summer months. Remember that during the colder month's most of your outfits remains covered. Hence, investing a little time on the accessories will certainly help you to define your new look. For instance, a pair of neutral colored leather gloves is a must to boost any outfit. The more color you have in your gloves the more colorful you will feel during the gloomy wintry months. Always make an extra effort to balance your accessories with your new look and do not go overboard. Progressing with small baby steps is the key to a successful ensemble.