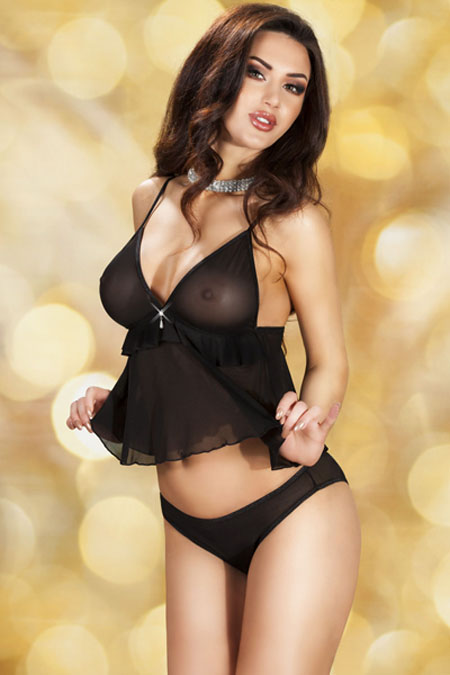 Some women have the tendency to wear pajamas that are not so attractive to sleep every night in. Instead, you can opt to spice up your nightwear with sexy intimate sleepwear items. Babydoll collection has what you need to spice up your wardrobe when it comes to nightwear. This sexy collection not only gives you a naive and charming appearance, but also a sensuous touch.
Babydoll has the ability to hide various imperfections on your body, as long as you are keen to choosing the best sexy lingerie set to suit your body type. It can make the personal issues disappears. It does not matter whether the problem is at the waist, or if you need to make your bust seem larger. It has the capability to fulfill your physical desires. This collection comes in different colors, styles, and also fabrics. This gives a variety to choose from. It also suits a high number of women due to its designs and styles. The fabrics used on the various lingerie sets include silk, chiffon, satin, leather and fishnet, just to meantion a few.
When looking for an innocent look with a sweet sultry impression, then lace is the most appropriate option. If you are confident in yourself and your physical appearance, then the fishnet would be just for you. See-through fabrics, as well as leather, are daring and incredibly erotic. The Babydoll collection has the ability to make a woman feel sensuous but not tacky and despicable, despite the shape or size of her body. Their items are comfortable enough to wear every day or only during special and occasions.
There are also sexy corsets that are part of this collection. Not only do they enhance the sexual appeal of the woman, but also redefine her shape. These sexy pieces have the ability to bring out the intimate feeling in both the man and the woman. The majority of women are grasping the opportunity of looking sexier with the presence of lingerie at a reduced price. The designers have also dedicated themselves to producing intimate pieces of high quality to suit all women's body types and shapes.
The internet was not left behind. It has various online stores where women can browse through and look for the most stunning lingerie and make great bargains. Babydoll collection has put out an opportunity to women who are looking for more intimate nightwear, as well as those who just want to look and feel sexier. Women can now look and feel incredibly good without having to dig much deeper into their pockets.