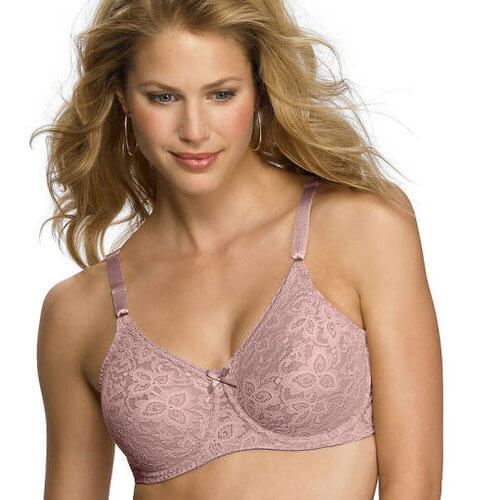 For years I've struggled with finding the right bra all while spending a fortune. Bras are similar to other articles of clothing meaning different brands will fit differently. I am fairly large-busted and found Bali brands runs true to size giving me the coverage and support I need. Bali knows a woman wants to look sexy but feel comfortable. While they offer many styles from the demi cut to the specialty brazier, I have found my favorite is Bali's Lace n' Smooth with underwire.
The Lace n' Smooth is a full cup, giving the utmost support and coverage. The non-stretch straps allow me to walk with ease knowing I won't bounce around. The other advantages offered are the seamless cup that helps prevent the pointed look and the width at the cleavage which helps avoid spillage. The all over stretch lace and feminine floral pattern provides women a feel of sexiness. The colors offered are black, white, rosewood and nude.
My preferred color is Rosewood which is a pinkish/beige that blends very nicely under white t-shirts. I've found the white bra tends to stand out as you can see the floral pattern if the t-shirt is too thin. Bali is a reputable brand that is found online or in departmeant stores however I enjoy to shop in the outlet stores.
Since outlets are known to carry imperfections for discounted prices, occasionally I'm able to find other colors such as red or navy due to the wrong dye used in the factory. Since the Lace and Smooth is for the full-figured women, the sizes offered are from 34C – 44DD. Being a 36D, I can attest that after many washes and years of wearing this style, the underwire has never popped through the sides which has been an issue for me with other brands.