With all the choices out there in the lingerie world, it is sometimes hard to figure out what is the best lace bralette bra you can possibly have. While not the same styles fit every woman's figure, its is even harder to make a quick choice, and many times we end up hopelessly with nothing. Is it worth to pay more for a piece of lace and straps, is it better to buy it as a set with strappy panties, and so on. As some women complain of bralettes being too tight in one spot and too loose in another, it is easier if you take some guidance into consideration.
Best Lace Bralette Choices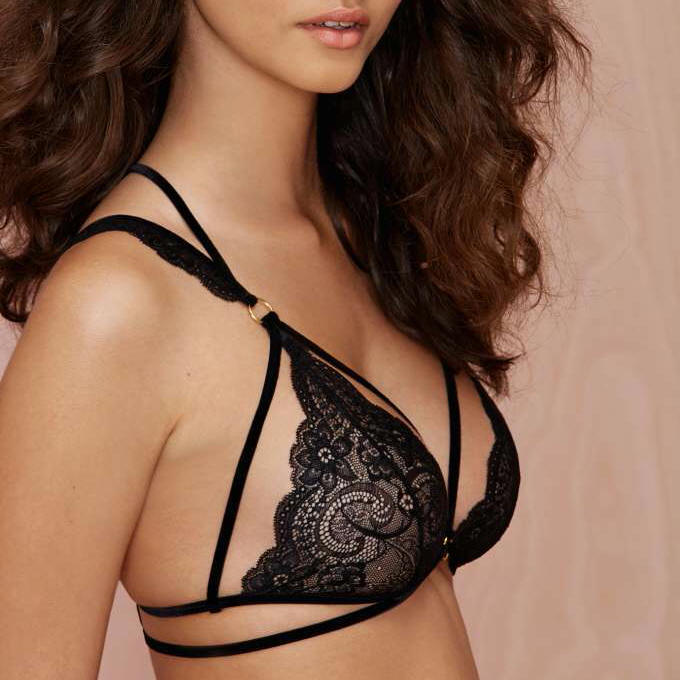 Rosalita Lace Harness Bra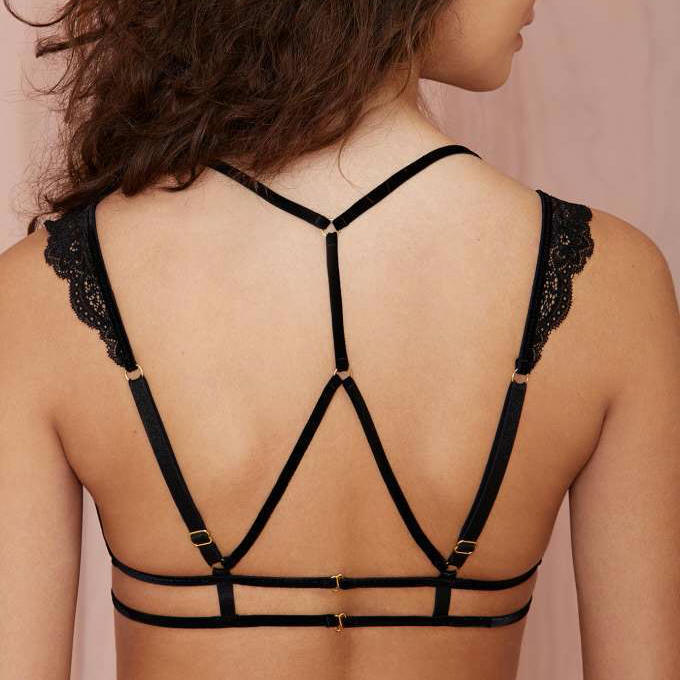 Rosalita Lace Harness Bra - back
First, take a look at Rosalita Lace Harness Bra from Nasty Gal, which has a harness style design. I like this style a lot as it really has a lot of straps and looks unconventionally sexy. Delicate lace on the breast area and shoulders give it a touch of tenderness, while the velvet straps supposedly do not harm the skin as they are made of velvet. It is a good example of best lace bralette with straps. Now, if you tend to have skin allergies due to skin contact with any base metal as I do, you will be disappointed. This is not the bra made for those women. This strappy bralette features at least nine round hardware items that help the straps draw a picture on your body. Among them are two S-shaped metal closures on the back, that have no protection between them and the skin. $45 is a decent price, I just wish the bra came in a set with matching lace and strappy panties, and it does not.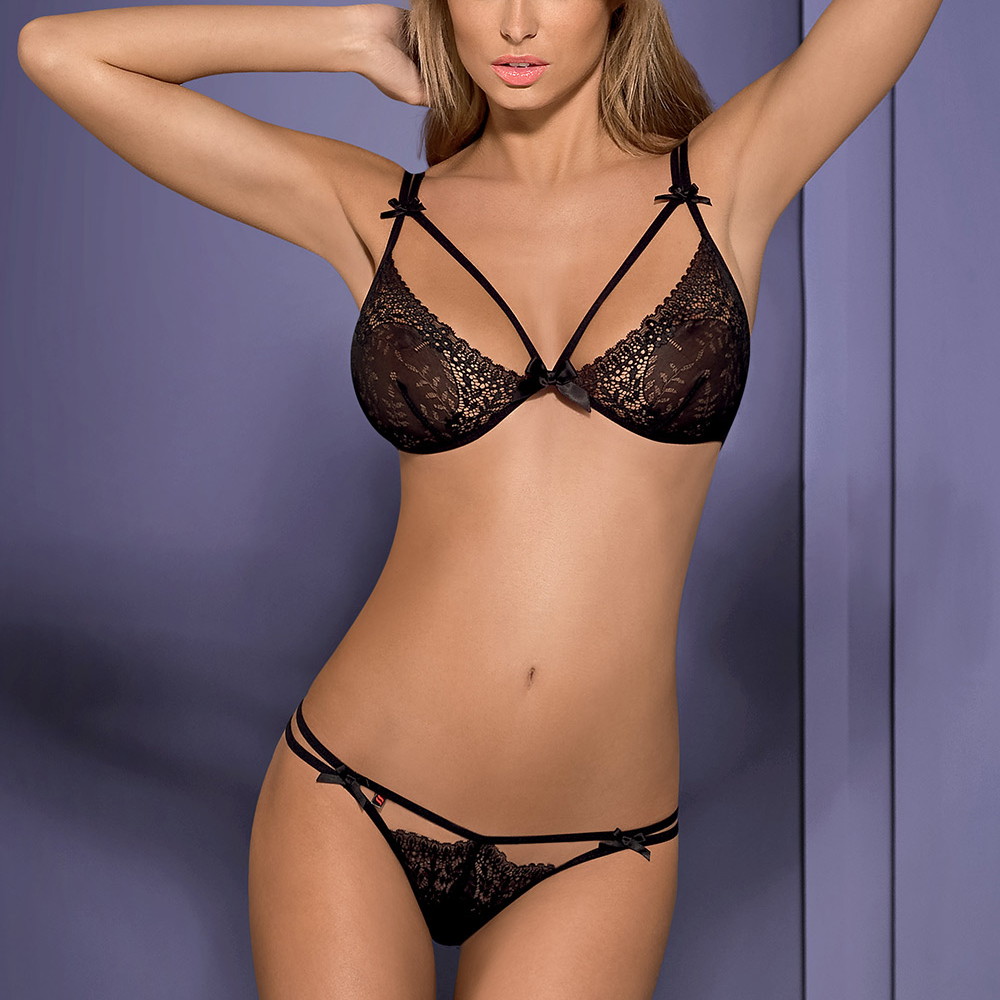 INTENSA Black Lace Bralette and G-String Set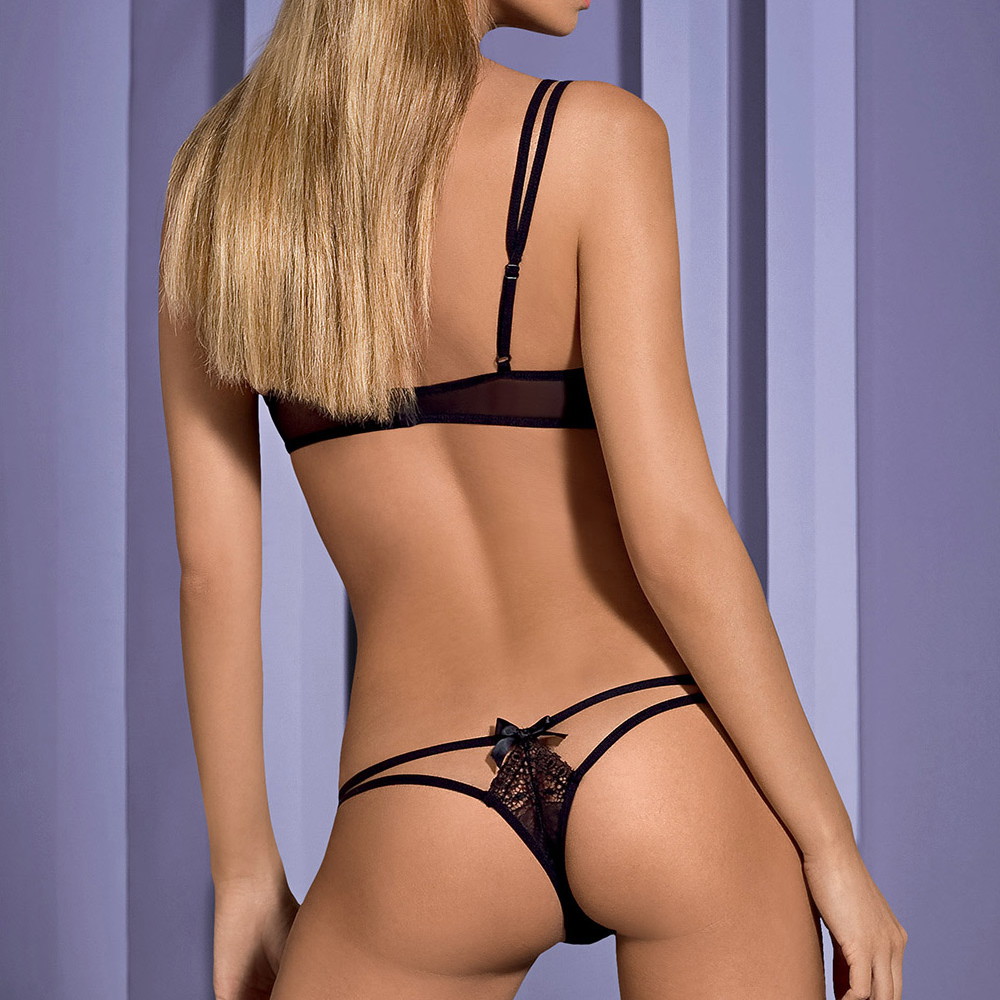 INTENSA Black Lace Bralette and G-String Set - back
I adore sexy lingerie styles from European brand Obsessive. "Inspire Your Desire" motto is exactly what I think of when I see this empowering Intensa Black Lace Bralette and G-String Set. First advantage - this strappy bra fastens as a traditional bra, in the back with hooks and eyes. Once it is in your size, it stays securely in place, no slip-outs, no rubbing. I love double strapping in this style and its light bondage design - the double straps run in both bra top and tiniest of all g-string panties. Most important from the fitting point of view - shoulder straps are adjustable. I wish they were adjustable in a full length, however I'd rather like to have double strapped shoulders and some adjustmeant, than no adjustmeant at all. Besides lovely back strapping on the previously reviewed Rosalita, I vote for the bra front in Intensa style. The lace cup is attached to the side strap under arms and stays snug to the breast (doesn't pull away with the movemeant). Look at the back side of the g-strings. Kite shaped lace coverage with a delicious satin bow. It is definitely one of the best lace bralettes with straps I have seen and tried. The total top and bottom for $50. It is a steal deal, considering it's been imported from EU.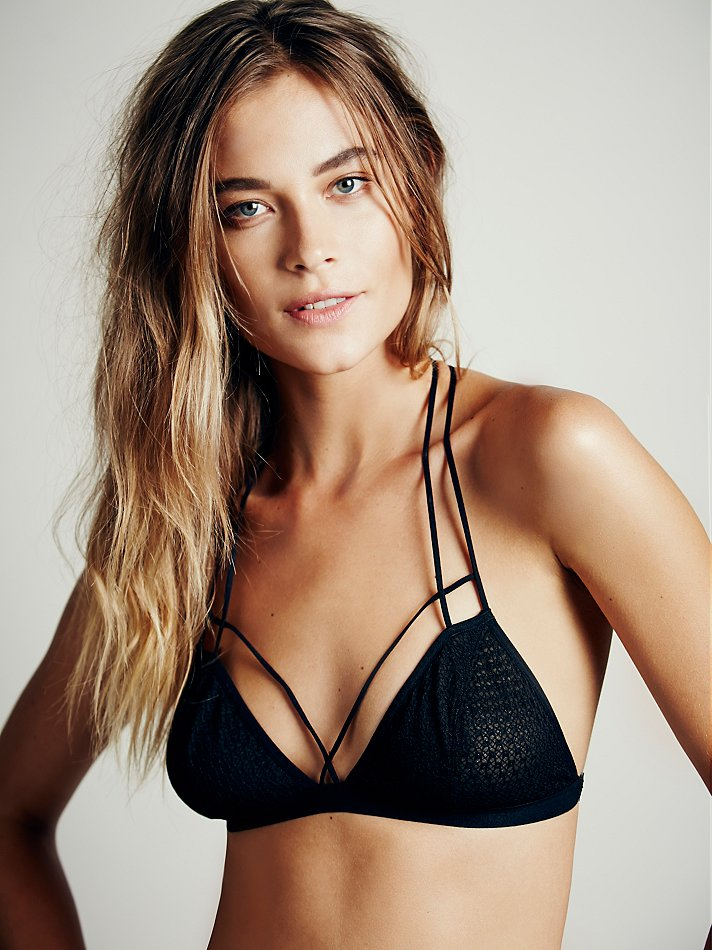 Black Fish In The Sea Strappy Bra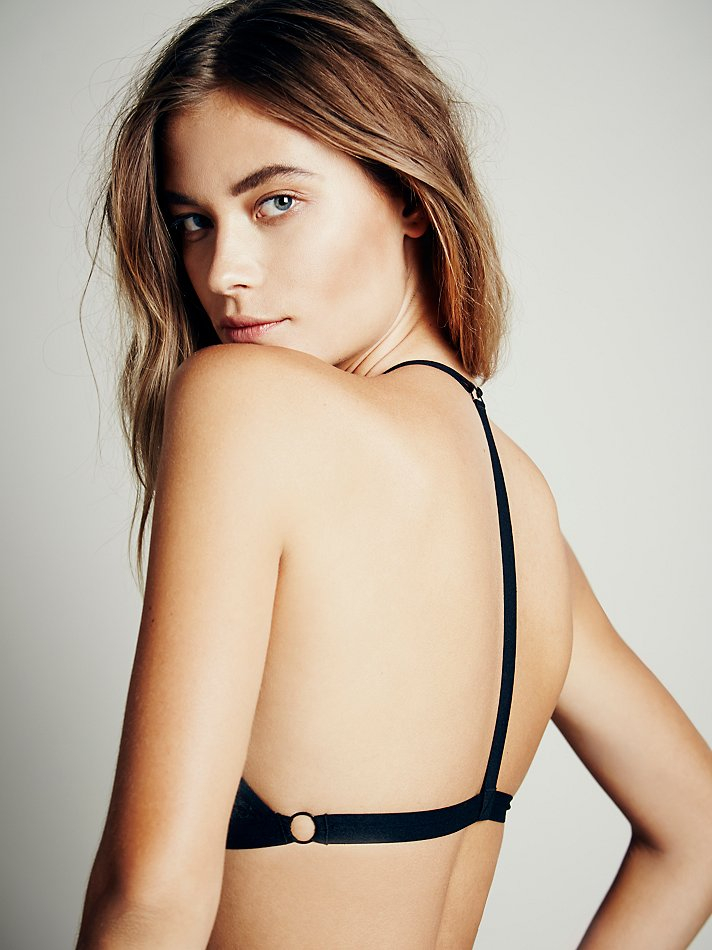 Black Fish In The Sea Strappy Bra - back
If you are a tall woman with a long torso and very small breast, Black Fish in The Sea Strappy Bra by Intimately is the best lace bralette for you. Not recommended for short women as the bondage style straps are long and not adjustable. Bra sizes A and B look fabulous in this strappy bralette style, however if you are larger than that, expect the slip-outs. I like this bra as it is more sporty and casual, there is thicker under bust snug strap for more security and a single long back strap is a very modern solution. Even if your attire is backless, nobody will mind that single strap to show, very sexy. A bit cheaper knit lace than the styles presented above, but hey, it is only $28. Not available to match with panties.