Listen up ladies, because one-shoulder swimsuits are the hottest trend this summer season. From ruffles to strings to funky prints, when it comes to showing off skin, this summer's theme is "less is more." The teeny weeny polka dot bikini is out and has been replaced with the asymmetrical style. Not only is this style more comfortable, but it also offers more coverage. So, if you're feeling nervous about not having that perfect bikini body, take a deep breath and enjoy that cookie. The one-shoulder style is ideal for flattering every body type, accentuating the areas you want to flaunt and offering coverage elsewhere. Looking for the best one-shoulder style for your trip to the beach? There's a vast variety of styles to choose from depending on your taste, personality and body type.
Playful Ruffles
Get in touch with your feminine with a ruffle swimsuit. These are reminiscent of childhood days running through the sprinkler and bring out ones innocent, girly side. The ruffles are great if you want to add just a little extra flare to a plain swimsuit, but still want something simple. Rumba Ruffles One Shoulder Bikini Tube Top in myriad of colors will warm up even the cloudiest day!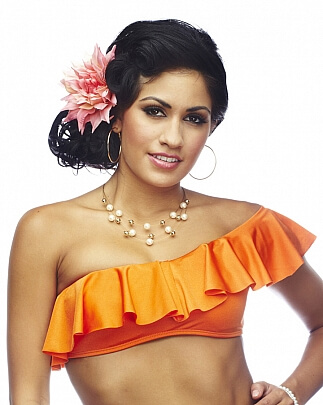 Open Front Style
Wanting to show off those toned abs? No worries! Go for a combination one-shoulder bikini suit, or even better and very trendy this year, the open front style. The open front swimsuit comes in all kinds of different designs; open in the front and connected on both sides, connected only on one side or openings places in various locations along the front or back of the suit. If you go with an open front style suit, stick to a simple pattern, or a solid color. The open front is already the focal point, no need to overdo it with extra ruffles and flare. One-shoulder monokini from Forever21 sets an example.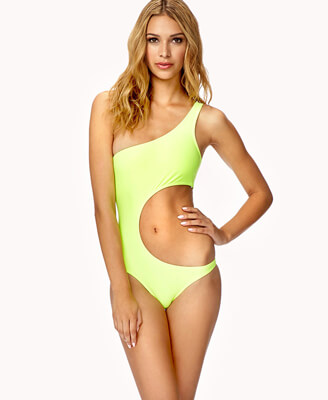 Straps
You only get one strap, so make it count. If ruffles aren't your thing, but you still want a little extra something, look for a strap with buckles or a bow. If you have a larger bust, a wider strap a a suit with multiple skinny straps may offer more support. If you decide to go with a plain strap, add a bit of variation to your swimsuit with an interesting color pattern or unique funky print.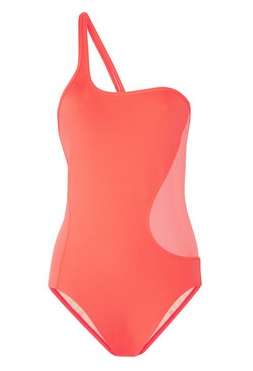 Neon pink sport style Adidas swimsuit will flatter your natural curves.