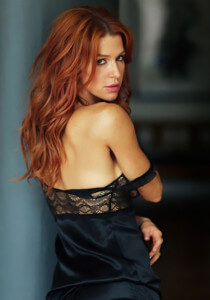 Every woman needs lingerie that makes her feel sexy and desirable. Especially if you are an entrancing redhead, you want to make sure the lingerie will add to your already promising appearance. Redheads are typically matched with earthy tones, such as green or brown, which tend to complemeant their lighter skin tones. However, a black lingerie set is a must have for any woman with colored in any deep red or auburn shades. Classic black sets are the easiest to find in stores, and typically have the most varieties available. Black also can be used to both slim and emphasize body parts, making it a color of choice.
Emphasizing the correct body parts will not only make you feel more comfortable, but also feel more desirable. Find your positive features and emphasize them when choosing what to wear. Even women who feel they have no figure can still feel sexy in black lingerie by adding accessories to well-fitting sets. Adding accessories to comfortable sets can add an exotic luster and make you feel irresistible. Lacy gloves or sheer robes complemeant basic designs, making the perfect finishing touch. Lacy or sheer black and red bra and panty set with a black sheer robe will unarguably complimeant your fiery look and soul. Can you see yourself in sheer black? How about a sexy black push up and sheer panties creating a perfect sync with your foolproof cocktail dress?
Wearing the earthy tones such as green or brown for the gown color, along with a black bra and panties will make your skin glow, drawing the attention up. Larger woman may also want to try gowns or robes along with their lingerie sets to help emphasize their positive features, and make them feel more secure about areas they aren't comfortable exposing right away. Shorter gowns will emphasize the legs, and longer gowns will help show the breasts.
For women with larger breasts, try focusing on a black bra that draws the eye to them. This can be done by selecting bras with lace or designs that command attention. If you feel your breasts are too big, try a satin bra to help give a smoother look, or an under wire black and red lace bra to emphasize cleavage. Women with smaller breasts may want to choose a black push up bra, then add stockings or garters to draw the eye lower. Lacy thongs or skirts can also emphasize your bottom half and draw attention when combined with a plain bra. There is plenty of wonderful options for natural redheads and those by choice! By following simple guidelines, classic black lingerie can look amazing on any red hair woman. Different designs, patterns and sets can not only help to customize your look but help to emphasize your natural beauty.